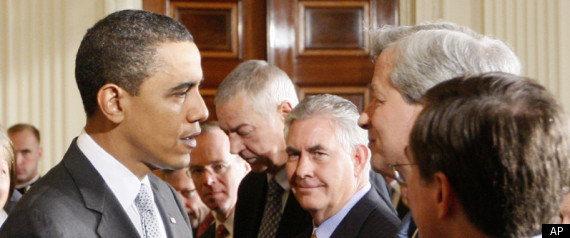 They bristled when he called them "fat cats." They fought every step of the way, unsuccessfully, to prevent his financial reform bill from becoming law. And some who supported him in 2008 are now throwing their money at Republican presidential candidate Mitt Romney.
But for all their grumbling, Wall Street executives have fared exceptionally well under President Barack Obama. In fact, some of Wall Street's highest earners are making as much now, if not more, than they did under President George W. Bush.
Take Wells Fargo president and CEO John Stumpf. He made $18.9 million in 2010, compared to $21.3 million in 2009, $13.8 million in 2008 and $12.6 million in 2007. JPMorgan Chase CEO Jamie Dimon has also watched his paychecks fatten over the past three years: He took home $20.8 million in 2010, compared to $1.3 million in 2009 (when some bank executives took a pay cut because of the financial crisis), $19.7 million in 2008 and $27.8 million in 2007.
The list goes on. Goldman Sachs CEO Lloyd Blankfein made $14.1 million in 2010, compared to $862,657 in 2009, $1.1 million in 2008 and $70.3 million in 2007. Bank of America president and CEO Brian Moynihan earned $10 million in 2010, compared to his predecessor Ken Lewis, who made $4.2 million in 2009, $9.9 million in 2008 and $24.8 million in 2007.
Even Vikram Pandit, the CEO of Citigroup who worked for two years for just $1 a year as a symbolic gesture after the financial crisis, was awarded a $23.2 million retention package in May 2011.
Banking elites have thrived under Obama for a number of reasons. For starters, Justice Department prosecutions for financial fraud are at a 20-year low, despite what many claim is a strong pattern of financial-sector misconduct in recent years. The Securities Exchange Commission has brought few civil fraud cases against big banks, and even those cases were settled so cheaply that Federal Judge Jed Rakoff has held up or rejected the deals.
Obama has also kept tax rates low. He extended the Bush tax cuts of 2001 and 2003, which means Wall Street executives' salaries are taxed at 35 percent and their capital gains income -- where the bulk of their take-home pay comes from -- is only taxed at 15 percent. And of course, many big banks are still standing because the president forked over tens of billions in taxpayer dollars to bail them out during the financial crisis that their industry fueled. Amid all of that, Obama didn't touch executive bonuses; in fact, he defended their right to keep them.
Source: The Huffington Post | Jennifer Bendery