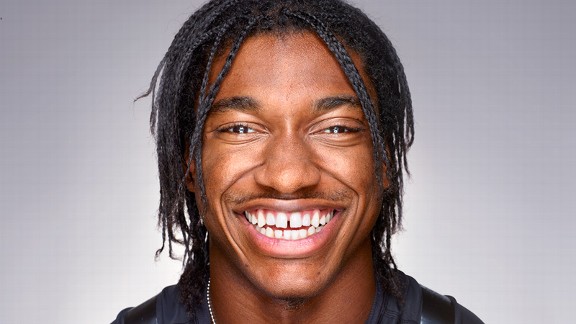 He is the new NFL quarterback for the Washington Redskins. He was selected by the Redskins in the first round of the 2012 NFL Draft. He played college football for Baylor University, and won the Heisman Trophy in 2011.
Click the play button below to listen to this broadcast.

For more Gospel Light
Minute Broadcasts, click here.
Hailing from a military family, with a strong, strict father, he began college at 17 years old. With dedication and hard work, he graduated in 3 years with a degree in political science, and a 3.67 GPA, all while appearing on the Dean's List two times. He is currently studying for a Masters degree in Communications. He won the Associated Press College Football Player of the Year award, the Davey O'Brien Award, the Manning Award, and the Consensus All-American award in 2011.
He said of his faith, 'I was heavily influenced by my parents to learn discipline. But my relationship with God was my most important influence...I've been in the church since I was 7. My parents didn't push it on us but they made sure we grew up in the church, so that's all we know, that's what we do.' He went further to say, 'Whenever you can be a Christian and come to a Christian university like Baylor and make a difference like this whole football team has, it's great. [God] gives you the stage to make a difference and not to just talk about yourself, but lift Him up. There are a lot of different types of Christians everywhere, but my biggest thing is it's not our job to judge; it's just our job to go out, praise Him, let people know what He's doing, and let people follow if they want to. So I praise God, I thank him for everything. Purposefully, you live every day for Him, and when He gives you the opportunity to speak up for Him or to do something in His name, you do it." The young man that I am talking about is Robert Griffin III, better known as RG3.
This is the "Chief of Sinners," Daniel Whyte III (better known as DW3), president of Gospel Light Society International, and just as Robert Griffin III gave his life to Christ, may I encourage you to do the same. Here is how:
John 3:16 reads, "For God so loved the world, that He gave His only begotten Son, that whosoever believeth in Him should not perish, but have everlasting life."
"For God so loved the world" means that if you are in this world, God loves you. No matter what you have done.
"that He gave His only begotten Son." His name is Jesus Christ. He suffered, bled, and died on the cross for your sins and for mine, and He was buried and rose again.
"that whosoever believeth in Him", the word "whosoever" means anybody at anytime. "believeth in Him" means to trust in Him, to depend upon Him, to rely on Him, or to have faith in Him for your salvation.
"should not perish" where? in hell.
"but have everlasting life" in Heaven with God.
The Bible also says in Romans 10:9 and 13: "That if thou shalt confess with thy mouth the Lord Jesus, and shalt believe in thine heart that God hath raised him from the dead, thou shalt be saved.... For whosoever shall call upon the name of the Lord shall be saved."
Dear friend, if you are willing to believe on the Lord Jesus Christ for salvation, please pray with me this simple prayer: Heavenly Father, I realize that I am a sinner and that I have done some bad things in my life. For Jesus Christ sake, please forgive me of my sins. I now believe with all of my heart that Jesus Christ died for me, was buried, and rose again. Lord Jesus, please come into my heart and save my soul and change my life today. Amen.
Congratulations on doing the most important thing in life and that is accepting Jesus Christ as your Lord and Saviour!
Remember, friend, Believe by faith. Share the faith. and Keep the faith!
Daniel Whyte III has spoken in meetings across the United States and in twenty-three foreign countries. He is the author of sixteen books. He is also the president of Gospel Light Society International, a worldwide evangelistic ministry that reaches thousands with the Gospel each week, as well as president of Torch Ministries International, a Christian literature ministry which publishes a monthly magazine called The Torch Leader. He is heard by thousands each week on his radio broadcasts, The Prayer Motivator Devotional and the Prayer Motivator Minute, as well as Gospel Light Minute X, the Gospel Light Minute, and the Sunday Evening Evangelistic Message. He holds a Bachelor's Degree in Theology from Bethany Divinity College, a Bachelor's degree in Religion from Texas Wesleyan University, and a Master's degree in Religion from Liberty Baptist Theological Seminary. He has been married to the former Meriqua Althea Dixon, of Christiana, Jamaica for twenty-five years. God has blessed their union with seven children. Find out more at www.danielwhyte3.com.