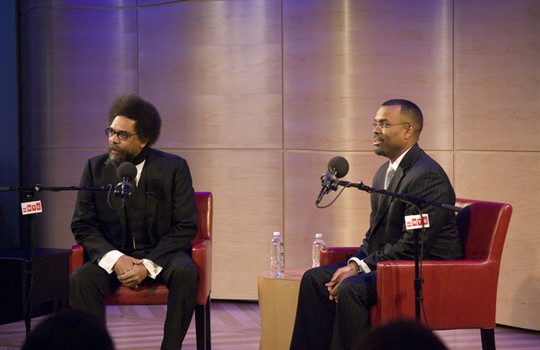 Several professors associated with the Center for African American Studies have outspokenly expressed their dissatisfaction with President Obama's performance, with some taking to Twitter to voice their concerns.
Pictured: Cornel West and Eddie Glaude
| | |
| --- | --- |
| Do You Like this Article? Then Like Us on Facebook. | |
As an outspoken critic with an active Twitter feed, CAAS Chair Eddie Glaude GS '97 has used social media to become a prominent advocate for the black community.
"As folks rally to support POTUS in Charlotte, will anyone sound the alarm for what is happening in Black America?" Glaude tweeted on Sept. 4 during the Democratic National Convention.
Glaude contends that Obama's approach to breaking the political gridlock in Washington has been right-of-center and has left his promised progressive agenda unfulfilled.
As a result, Glaude argues, Obama has failed to address many hardships disproportionately faced by African Americans.
"Of course, you have to consider the scale of the economic crisis, but when you look at housing, the job market, rates of incarceration and the health care crisis, black America has really suffered," Glaude said.
Glaude said he does not believe the black community is necessarily better off now than it was four years ago, despite representation in the White House.
Glaude said he does not expect Obama to govern specifically with blacks in mind but added that the president has failed to use targeted policies needed to support some of society's most vulnerable communities.
"We wouldn't think that any specific legislation for the LGBT community beyond repealing Don't Ask, Don't Tell and beyond questions about same-sex marriage is needed. We can talk about the Hispanic community in the same way with the DREAM Act," he explained.
Glaude, who is currently on leave, will be conducting research and teaching at Columbia University as a visiting professor this year. Although he said he does not intend to work directly with any political campaign, he added that he plans to continue his advocacy and commentary in full force.
"I want to intervene in a substantive and culturally informed way around issues that matter to me," Glaude said. "What I despise more than anything are efforts to short-circuit the kind of deliberation we need for people to make informed choices. As long as I am doing that kind of work, I hope I have some influence."
SOURCE: ANJALI MENON
The Daily Princetonian