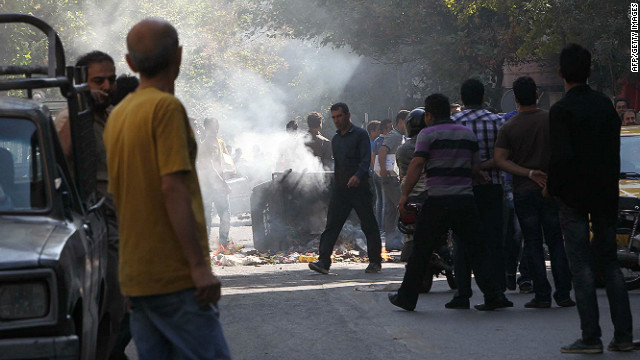 Iranian riot police swarmed a major bazaar Wednesday in Tehran as demonstrators launched protests against firebrand President Mahmoud Ahmadinejad, blaming him for plummeting currency that's leaving families across the country struggling.
A day after Ahmadinejad acknowledged that his country is taking a hit, and placed the blame largely on "the enemy's" sanctions, crowds of protesters also took to the streets in another commercial area in the capital, shopkeepers said.
They chanted slogans slamming Ahmadinejad's regime and complained about the high prices of goods and food. Riot police dispersed the crowd, a shopkeeper said.
The country's supreme leader Ayatollah Ali Khamenei echoed Ahmadinejad's position Wednesday, saying that growing pressures are mainly aimed at making his country surrender, "but the Iranian nation has and will never surrender to pressures and this has made the enemy furious," the semi-official FARS news agency reported.
The United States and European Union have imposed numerous sanctions aimed at pressuring Tehran into sitting down for international negotiations on its nuclear program. Earlier this week, U.S. State Department spokeswoman Victoria Nuland said the falling value of the rial comes as "firms all over the world are refusing to do business with Iranian companies."
She cited "the most punishing sanctions we have ever been able to amass as an international community," calling them, "very important for trying to get Iran's attention on the important denuclearization work."
The rial's value was cut in half from September of last year through last month, the Congressional Research Service said in a report. It has fallen even further since, including a sharp nosedive this week, reaching historic lows against the value of the dollar.
At the main bazaar in central Tehran, some protesters used boxes and tires to start fires, according to a merchant who spoke on condition of anonymity for security reasons.
But the semi-official Mehr news agency quoted the head of the bazaar's merchant's association as saying that officials had observed "suspicious" activity and identified people around the market who were from "outside the bazaar community."
The bazaar was closed for safety reasons, Mehr reported.
Dozens of police on motorcycles responded to the scene, and dozens more were on foot.
Police also gathered in two major squares -- Ferdosi and Vali Asr -- although no demonstrations were immediately reported in those spots.
Source: CNN | Josh Levs. Shirzad Bozorgmehr, and Joe Sterling