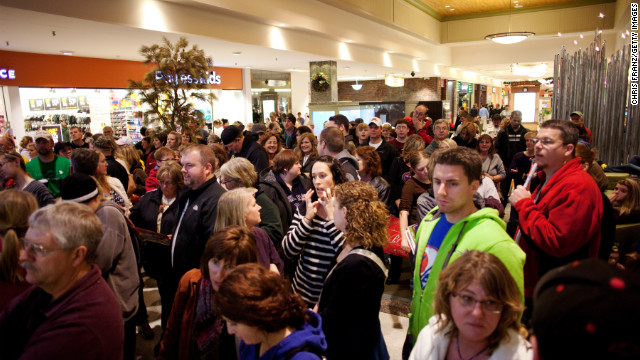 The debate over whether the hand-to-hand-combat excesses of Black Friday represent a grotesque over-commercialization of the holiday season has lost its meaning.
Bob Greene says earlier Black Friday store hours this year may lure people away from Thanksgiving gatherings. Is it worth it?
The point is no longer whether or not Black Friday tarnishes the holidays.
The point is that Black Friday has become a holiday of its own.
It will arrive again this week, even as Americans are still sitting at their Thanksgiving dinner tables. Black Friday -- with its door-buster sales, hordes of frenzied shoppers shoving for position, employees nervously waiting for the onslaught -- has shrugged off the confines of its name and has now established squatters' rights on Thursday.
Target stores will open at 9 p.m. Thanksgiving night, three hours earlier than the stores' midnight opening in 2011. Wal-Mart will begin its Black Friday sales at 8 p.m. on Thanksgiving. Toys R Us will match that 8 p.m. opening, as will Sears. Best Buy, which will wait until midnight to open its doors, seems almost like a dowdy throwback.
The store employees around the country who are upset that the schedules will deprive them of a big part of their holiday Thursday (many of them will have to arrive hours before the customers) and the citizens who fret that the lure of the deeply discounted sales will empty out their home-for-the-holidays family gatherings are probably fighting a losing battle. Black Friday appears to be triumphant, and it has taken on the characteristics of the holidays it mimics.
Like real holidays, it occurs on a predesignated day each year. People anticipate it and mark the date. Across the breadth of the nation they are absent from work to observe it. And when the day arrives, they congregate like. . .well, like congregations.
Established religious holidays, such as Christmas and Hanukkah, have long been occasions for gift-giving; some holidays -- Mother's Day, Father's Day, Valentine's Day -- have eagerly been embraced by merchants as a way to move their products.
Black Friday does away with the middleman -- in the universe of holidays, it is the only one that exists solely to sell merchandise. It celebrates nothing; it commemorates only itself. It is an annual festival of the cash register.
The derivation of the term "Black Friday" is open to dispute, but it has come to refer to the theory that merchants go into the black -- into the profit side of the ledger -- during the holiday shopping season, which traditionally commences the day after Thanksgiving.
Source: CNN | Bob Greene