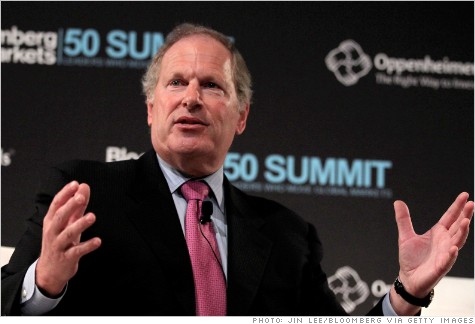 Honeywell International CEO David Cote struck a hopeful note after his meeting with President Obama on Wednesday.
Pictured: Honeywell International CEO David Cote said he's optimistic Washington can find a solution to the nation's debt crisis.
"This is going to get solved one way or another," Honeywell (HON, Fortune 500)'s Cote said in an interview with CNN's Erin Burnett.
Cote was among 12 CEOs of the nation's largest companies who met with President Obama on Wednesday to talk about the fiscal cliff. The CEOs rushed out of the White House about 90 minutes after the meeting started. They all declined to talk to the media except Xerox (XRX, Fortune 500) CEO Ursula Burns, who said the meeting went well.
Mike Duke, CEO of the nation's largest retail store chain Wal-Mart (WMT, Fortune 500), urged Washington leaders to strike a deal, in a statement he released after attending the meeting.
"Our customers are working hard to adapt to the 'new normal,' but their confidence is still very fragile," Duke said. "They are shopping for Christmas now and they don't need uncertainty over a tax increase."
Obama's meeting was part of a broad campaign to meet with leaders representing different constituencies ahead of negotiations over the fiscal cliff with Congress, which start Friday.
The fiscal cliff is the top economic issue facing the nation. At the end of this year, the George W. Bush-era tax cuts are set to expire, and on Jan. 2, automatic spending cuts will commence that amount to $1.2 trillion in deficit reduction over 10 years.
Leaders of the largest companies have indicated they are holding back hiring and spending because they are worried about Washington gridlock over the fiscal cliff.
Cote is well-versed on the topic, because he had been a member of the president's debt commission tasked to come up with solutions. Cote said he doubted the president and Congress could come to a grand bargain in the next two weeks. But he's more hopeful they can arrive at a deal to fix the nation's long-term debt problems than he was two years ago.
SOURCE: Jennifer Liberto
CNN Money