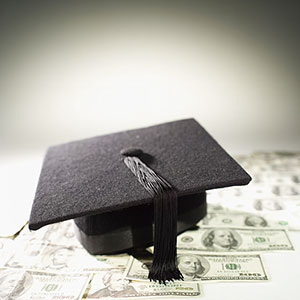 Late last year, total student debt outstanding surpassed $1 trillion for the first time. Now, the problem of student loan delinquency is generating its own eye-popping numbers.
New data show that 11% of student loans were 90 days or more past due in the third quarter, up from 8.9% in the previous quarter and 8.8% a year prior, according to the Federal Reserve Bank of New York. It's also the highest since at least 2003, when the bank first started tracking student loan delinquencies.
"It's a red flag and a warning sign that more Americans are struggling to repay their student loans -- things are bad, really bad, and getting worse," says Rich Williams, a higher education advocate for the U.S. Public Interest Research Group, a nonprofit based in Washington, D.C.
The latest statistics come at a time when delinquencies on many other consumer debts, including credit cards and mortgages, are dropping. Overall, delinquency rates on outstanding consumer debt fell to 8.9% in the third quarter, from 10% a year prior, according to the Federal Reserve.
And the rise in student loan delinquencies could be far from over. The Federal Reserve's calculation counts borrowers who are in deferment or forbearance -- periods during which they can put off payments without penalty -- as being current on their loans. But there's no telling whether these borrowers will be able to keep up with payments once these temporary relief periods are over.
More than 1.5 million federal student loan borrowers were in economic-hardship deferment (which is granted for hardships like unemployment) and in forbearance (which borrowers can apply for if they can't afford to repay the debt based on their current income) at the end of September 2009, up 26% from a year prior, according to the latest data from FinAid.org, which tracks student loan debt. That number could be higher now, given the high unemployment rates that have persisted since.
Source: MSN Money
This post comes from AnnaMaria Andriotis at partner site MarketWatch.