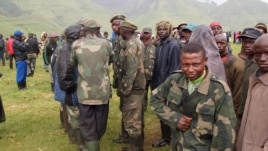 The Democratic Republic of Congo's army and the M23 rebels in the east of the country are both trying to forge alliances with militias or armed groups. The M23 is reported to have allied with nine armed groups including some notorious human-rights abusers, while the army has been trying to integrate several militias into its ranks, so far with uneven results.
Pictured: Nyatura militia combatants at an army camp in North Kivu, DRC (N. Long, VOA)
The United Nations radio in the DRC, Radio Okapi, reports that 35 militia leaders and combatants took part in an army parade in North Kivu province on Tuesday, where they promised that their followers would soon come out of the bush and join the army.
The 35 men were from three groups - the Raia Mutomboki or Angry Citizens Alliance, a multi-ethnic coalition; the Nyatura, an ethnic Hutu group; and a small group called the Union of Congolese Patriots.
The day after that ceremony, the United Nations revealed that Raia Mutomboki groups have killed at least 246 civilians, mainly women, children and elderly people, in scores of attacks on villages in North Kivu province between April and September.
Following that report, the government's communications minister, Lambert Mende, said that militias returning from the bush would not necessarily be integrated in the army.
"There is a lot to be done with such people to reinstate them in a normal life, but not only within the army. This is something to be managed by the government, by the local authorities and by the justice [system] because maybe among those people who are returning some criminals might be found," Mende said.
SOURCE: Nick Long
Voice of America News