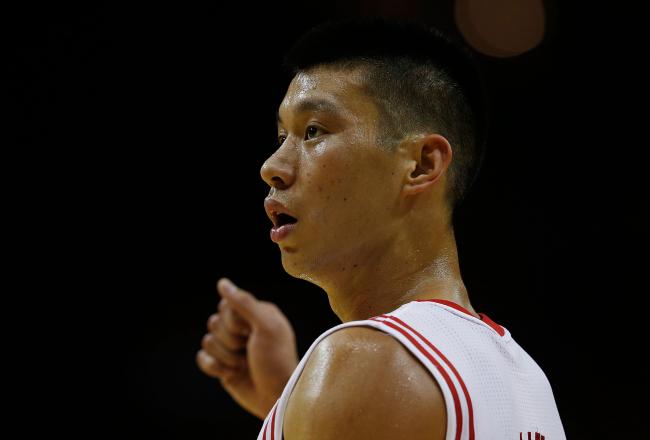 With the New York Knicks, Jeremy Lin supplanted Toney Douglas as the starting point guard, but now that both Douglas and Lin play for the Houston Rockets, there are signs that a reverse coup may be in play.
In the offseason, the Rockets spared no expense to redeem themselves from what had seemed in the halcyon days of Linsanity like one of the most myopic organizational decisions in recent basketball memory: the Rockets had cut Jeremy Lin before he had been picked up by New York, where he suddenly shot into iconic basketball heights like...well, like a rocket.
When Houston Rockets General Manager Daryl Morey got a second chance to bring Lin back to Houston, he went all in with a "poison pill" (a backloaded contract) that the Knicks could not swallow. Heading into the 2012 regular season, Lin was supposed to be the most recognizable face of a largely anonymous and extremely young Rockets franchise.
In a stunning turn of events, the Rockets picked up even more impressive star power: James Harden was traded to Houston from the Oklahoma City Thunder, bringing along a prodigious beard and prolific scoring, which made Lin a second fiddle.
But Lin was still clearly on stage. Harden and Lin connected so smoothly in early games that it appeared the duo had been concocting backcourt chemistry for years, rather than the mere hours they had played together.
Nevertheless, in a 119-117 Blazer overtime defeat of the Rockets on Friday night (the second such thriller of this young season between these two squads), Lin was relegated to bench duty for the entire extra period, while Douglas ran the point.
That's right, the player who for much of the offseason garnered the most steady stream of Houston Rockets headlines was not even on the floor when the game mattered most.
And it was not as if he was having a poor outing. Lin had already secured a symmetrical double-double in points (11) and assists (11). He did have four fouls and had logged some serious minutes (35 minutes, 34 seconds), but if Lin is the most capable point guard on the team, why are the Rockets going to Douglas at the most crucial minutes?
Douglas finished the game 2-for-11 from the floor, and had a single assist. (He also failed to score in overtime.) If interim coach Kelvin Sampson (who has taken over while Kevin McHale attends to sensitive family concerns) will choose Douglas over Lin with that box score, what will he do if Douglas begins to show some sustained offensive life?
Lin has been among the lead leaders in steals this year, but Douglas is a better defender; he is quicker and thus does a better job than Lin of keeping opposing point guards in front of him; Lin more frequently has to chase after quicker guards or switch with another defender after a blow-by.
Source: Bleacher Report | ROCKY SAMUELS