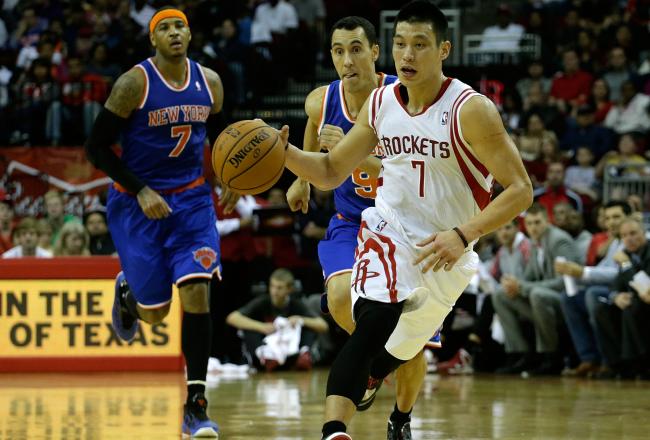 The Houston Rockets are looking to reach the playoffs this season after missing out last year. The good news is that this roster has the ability to do that, even without production from Jeremy Lin.
On Friday night, the point guard was able to get redemption from the team that did not think enough to re-sign him this offseason. The Rockets defeated the New York Knicks in impressive fashion with a score of 131-103.
However, Lin was not the star of the show. While he finished with a solid 13 points and 7 rebounds, he did not excel at distributor like he should.
In the last three games, the former Harvard star has totaled only nine assists to go with 12 turnovers. This is not going to get it done.
For the season, his assist-to-turnover ratio is only 2.08, which ranks 34th among qualified point guards.
Combine this with his poor shooting (24.3 percent from three, 34.8 percent overall), and Lin might be doing more harm than good on his new team.
On the other hand, Houston has a lot to be excited about from the rest of the team.
Many around the league questioned the decision to blow up the roster and get rid of the top six scorers. Those people are silent for the most part at this point.
Two young players with relatively small contributions last year--Chandler Parsons and Patrick Patterson--have been extremely productive this year.
Parsons is coming off the best game of his career with 31 points on 13-of-17 from the floor. After starting slow, he has now scored double-digit points in seven straight games and is a consistent option from the perimeter.
His ability to get rebounds and pass the ball make him incredibly valuable on this young team.
Source: Bleacher Report | ROB GOLDBERG