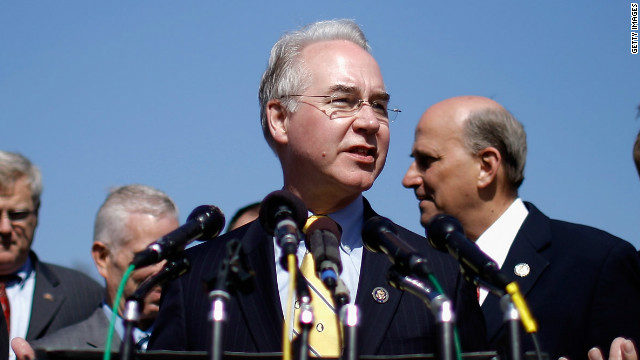 With the so-called fiscal cliff looming, legislators continued on Sunday to express optimism that a deal would be reached - but members of the two parties remained entrenched on one of the major sticking points, tax revenue.
Pictured: Rep. Tom Price, chairman of the House Republican Policy Committee, addresses the press.
Asked if she could "accept a deal that does not include tax rate increases for the wealthy," House Minority Leader Nancy Pelosi responded, "No."
Rep. Tom Price, who is chairman of the House Republican Policy Committee, was similarly firm.
"We're still at the place where everything gets hung up: no increases in tax rates. That is still the position of House Republicans, correct?" CNN chief political correspondent Candy Crowley asked on "State of the Union."
"We would be happy to look at that if it solved the problem. The problem is, it doesn't solve the problem," Price replied.
Still, Sen. Dick Durbin, the Democratic whip, said he hears signs the political debate has advanced from the winter of 2010, when the Simpson-Bowles Commission proposed a deficit reduction plan. President Barack Obama had created the commission, but did not send its recommendations to Congress, which instead created the so-called supercommittee - which proved unsuccessful - and the deficit reduction measures in the fiscal cliff to break their impasse.
"What I hear is a perceptible change in rhetoric from the other side, and what it is is an invitation for our side to basically sit down and say, what can we do for this country?" Durbin said on CNN.
"Push the special interest groups to the side for the moment, and what I hear the president saying is, we're not going to solve this by asking the wealthiest to pay their fair share, but it will be part of the solution," he continued. "And what I hear from the Republican side is, well, what is the rest of the solution? That is the beginning of a negotiation."
The fiscal cliff is a combination of the spending cuts passed by Congress - known as sequestration - and expiration of the Bush-era tax cuts, all set to take effect at the beginning of the new year, absent congressional action. Economists have said the fiscal cliff would put the U.S. economy into recession.
SOURCE: CNN