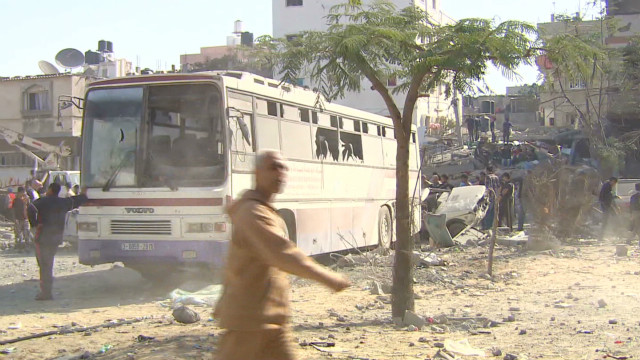 Warplanes, drones and rockets criss-crossed the sky over Gaza for the sixth day Monday as Israel pressed its air offensive against Gaza militants. Hamas leader Khaled Meshaal vowed continued resistance against what he called a "criminal enemy."
Pictured: Airstrikes take toll on Gaza civilians
"We do not want escalation nor do we call for a ground war," he told reporters at a news conference. "But we are not afraid of it nor will we back down."
In Israel, air raid sirens wailed throughout the day and troops shepherded residents into bomb shelters as rockets arced overhead. In Gaza City, rockets streaked away toward Israel as smoke and fire poured from buildings struck by Israeli warplanes or drones. Most businesses were closed, the streets largely empty.
At least two people died Monday afternoon in a strike on a Gaza City office building used by some media outlets, according to Palestinian sources. Ramez Harb, information leader of the military media office of Palestinian Islamic Jihad, died in the attack, the sources said. Among the wounded were two children, the sources said.
The IDF said the strike targeted four senior Islamic Jihad members who it said were hiding in the building, including the information chief.
The military described the others as key figures in military training, attack planning, long-range rocket operations and arms manufacturing within the organization.
Israeli forces, who targeted the same building on Sunday, said on Twitter that the officials were using reporters as human shields.
"We targeted only the 2nd floor, which is where the senior terrorists were," the IDF said on Twitter. "The rest of the building was unharmed. Direct hit confirmed."
Palestinian health officials said 97 people have died and 750 have been wounded in Gaza since Israel's offensive -- sparked by months of what Israel characterized as incessant rocket attacks by militants -- began six days ago. Israeli officials say three people have died and 68 have been wounded in Israel as the result of rocket fire from Gaza.
Despite the violence, a general in Egyptian intelligence involved in talks to broker a cease-fire expressed optimism Monday that a deal to stop hostilities could be reached.
The general told CNN that Hamas gave Israel its conditions for a cease-fire through an intermediary, intelligence chief Mohamed Shehata.
SOURCE: CNN