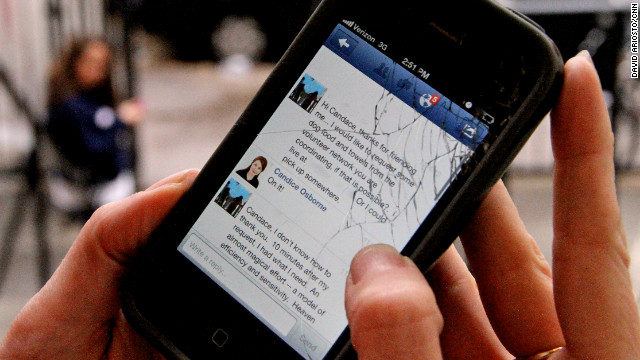 It has been in operation only since October 30, but the Facebook page for "Giving back to those affected by Sandy" has a longer timeline than most Facebook members.
Volunteer Candice Osborne is able to quickly respond to the needs of Superstorm Sandy victims with the help of social media.
The page, started by the group "BK girls give back," began as a way to help people stranded in areas with no cell service or way to communicate after the superstorm. Soon, it took on a life of its own. Shelters in need of supplies, residents in need of a ride, organizations needing volunteers and even people who lost and found pets all posted on the timeline.
"The page was started for us to just keep track of our friends and family that needed help," said Christina Karaba, one of the "BK girls" and an employee of Turner Broadcasting, CNN's parent company. She says they've had 1.2 million hits.
"Giving back" is just one of many pages, like "Help Brooklyn," "Sandy HELP," "Surviving Sandy" and "Sandybaggers," where people looking to help victims of the storm come together to share information. Indeed, Facebook says, after the storm, there were as many as 700 groups with "Hurricane Sandy" in the title.
One page, "Hurricane Sandy Acts of Kindness," lists posts from those looking to help victims and those looking to highlight acts of kindness toward the storm's victims. Stories fill the page, from someone paying the hair salon bill of a woman who'd lost everything in the storm to a family delivering food to those without power.
Many have taken to Twitter to promote fundraising events. "I'm buying all my holiday gifts this year at this amazing pop-up in NY benefitting #hurricanesandy victims," tweeted Gail Zinser. "go shop!"
For the most part, Facebook communities looking to help storm victims don't solicit cash. Karaba says her team doesn't handle any money. She refers to them as "help brokers."
"You come to us when you need help and come to us when you want to help. ... We're making the help connections."
Where Twitter is often a vehicle for publicity, many people and businesses turned the tables, tweeting offers of help, including free legal advice, clothing drives and pet and child care.
Source: CNN | Katie Walmsley