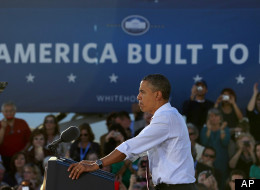 Heading into the 2012 election, Republicans were convinced young voters under the age of 30 were no longer in President Barack Obama's corner, and they'd likely abandon him at the ballot box or simply not show up on Nov. 6. Considering Bureau of Labor Statistics data show young people have consistently held an unemployment rate as high as 10 percent, higher than other adult age groups since 2009, Mitt Romney gambled on making gains with the youth vote by simply talking about the economy and promising to get Americans back to work.
President Barack Obama speaks at the Intel Ocotillo Campus, Jan. 25, 2012, in Chandler, Ariz. The president won the youth vote in 2012 by well more than half. (AP Photo/Haraz N. Ghanbari)
Instead, voters ages 18 to 29 -- who made up 19 percent of the electorate, a greater share than in 2008, and half of whom cast a ballot, for the third presidential election in a row -- went for Obama by 60 percent to 36 percent for Romney.
Now Republicans are faced with a grim premise as they look toward the future, with a much more racially diverse and socially liberal young voter base that supports Democrats by a large margin.
"It's something Republicans need to worry about in the future, because they could lose that entire generation," said Paul Beck, a professor at The Ohio State University.
It is true Obama's support among young voters dropped by 6 points from 2008, but it was still a 24 point margin over Romney. Yes, young people tend to be more liberal, but both George W. Bush and Ronald Reagan were able to win the youth vote. Obama's youth vote victories this year and in 2008 were the biggest wins among this demographic of any presidential candidate in recent history.
According to Beck, those kind of consistent margins among an entire age demographic suggest an environment where those voters become inclined to support a particular political party by default. "The clearest evidence that we have come from the 1930s," Beck said. "That's when a generation of the electorate entered and voted for [Franklin Delano] Roosevelt." After FDR's death, that generation included the strongest supporters of the Democratic party. A similar loyalty was inculcated during Ronald Reagan's years in office.
If one follows the voting trends of generations that voted for Roosevelt and Reagan when they were young, Beck said, as they grew older, they continued to lean toward the same party. This trend has yet to establish itself among millennials, but it could certainly happen.
Source: Huffington Post | Tyler Kingkade