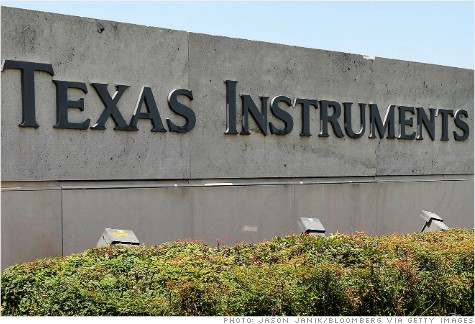 Chipmaker Texas Instruments said Wednesday that it will lay off 1,700 workers in an effort to shift focus away from its struggling mobile business.
| | |
| --- | --- |
| Do You Like this Article? Then Like Us on Facebook. | |
The Dallas-based company had made some headway in the smartphone market a few years ago. But recently the biggest mobile phone makers, including Samsung and Apple (AAPL, Fortune 500) have opted to design their own chips for their respective Galaxy smartphones and iPhones.
Other mobile processor competitors, including Samsung, Qualcomm (QCOM, Fortune 500) and Nvidia (NVDA) have also had better success in the smartphone business. Even Intel (INTC, Fortune 500) has made strides, signing recent deal with Motorola (MSI, Fortune 500) to put its new mobile chips in future Motorola smartphones.
TI says it's time to reconsider its strategy, opting instead to embrace what many industry experts believe is the future of the mobile sector: embedded connectivity in everyday items, including appliances, cars and even clothing.
SOURCE: David Goldman
CNN Money