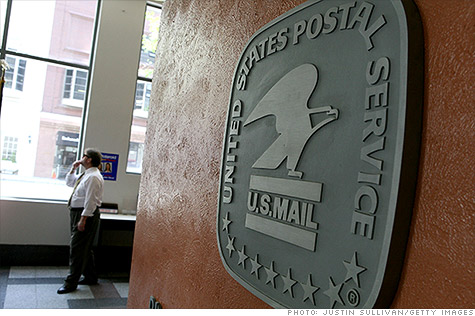 The U.S. Postal Service announced a record loss of $15.9 billion for the fiscal year 2012, which it blamed primarily on a mandate to set aside billions of dollars for a retirement heath fund. The Postal Service said that its loss includes $11.1 billion in defaulted payments it owes to "prefund" health benefits for future retirees. Postal officials have complained for years about these prepayments, which are required by Congress, to pay for future retirees. The Postal Service also points out that other federal agencies don't have similar mandates for prefunding.
The Postal Service defaulted on two health care prefunding payments during its 2012 fiscal year, which ended on Sept. 30.
Its total losses of $15.9 billion are more than triple the $5.1 billion in losses it posted in the prior year, the Postal Service said.
Fredric Rolando, president of the National Association of Letter Carriers, blamed the Congressionally mandated prefunding for the bulk of the Postal Service's financial woes.
"The mandate has depleted Postal Service funds, forcing the [agency] to give up any quarterly or annual profits, empty its bank accounts and exhaust its borrowing authority ... to satisfy an unfair political mandate," Rolando said in a written statement.
He said that without the mandate, the Postal Service would have lost $2.2 billion this year. While that's still a deficit, he said it's about half the $4.9 billion it lost last year.
SOURCE: Aaron Smith
CNN Money