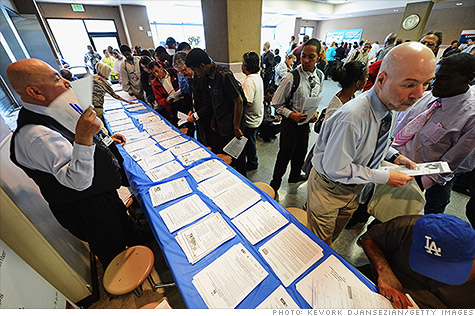 Jobless Americans have collected more than half a trillion dollars in benefits over the past five years.
Two million people could lose unemployment benefits over the holidays if Congress doesn't act.
State and federal unemployment insurance programs have cost roughly $520 billion, according to a Congressional Budget Office report released Wednesday.
The price of continuing this safety net will be the subject of intense debate in Congress as lawmakers decide whether to extend the deadline to file for federal benefits beyond year's end as part of the fiscal cliff negotiations. Extending federal jobless insurance next year could cost as much as $30 billion, according to the CBO analysis.
Here's how it works: The jobless generally receive up to 26 weeks of state benefits and then shift to federal emergency unemployment compensation, which is broken into four tiers and lasts up to 47 weeks. There is a separate federal extended benefits program, which provides up to 20 weeks, but only New Yorkers are eligible for it at this time.
CBO looked at four extension options and estimated the cost of each.
--Fully extending both federal programs for a year, which carries a price tag of $30 billion.
--Providing up to 14 more weeks of federal emergency benefits at a cost of $14 billion.
--Allowing recipients to finish receiving the benefits left in their tier at the end of the year, which would cost $4 billion.
--Lengthening the current extended benefits program by a year for a price of $3 billion.
The agency also highlighted the effect of once again extending unemployment benefits. While it would provide greater protection for those who lose their jobs and allow them to continue spending, it also provides an incentive for recipients to stay unemployed longer than they otherwise would have.
Source: CNN Money | Tami Luhby