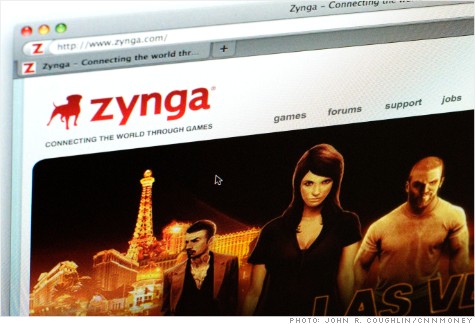 It's been a rough few weeks for Zynga, which was forced to slash both its workforce and its 2012 outlook last month. Now CFO Dave Wehner is jumping ship for, of all companies, Facebook.
Zynga, whose main business is making Facebook games like FarmVille, announced Wehner's exit late Tuesday. After two years in his role at Zynga, Wehner is leaving for a "senior finance position" at Facebook (FB).
Wehner helped "guide the company's transition from startup through IPO," CEO Mark Pincus said in a blog post . Zynga made its public debut in December 2011. Its shares have lost 78% of their value since then, currently languishing near just $2.
The new CFO will be Mark Vranesh, who will also retain his current title of chief accounting officer. Vranesh had served as Zynga CFO from 2008 to 2010.
But the CFO role isn't the only one Zynga (ZNGA) is switching up. David Ko, former head of mobile operations, has been promoted to chief operations officer. That position had been vacant since John Schappert stepped down in August.
Business development head Barry Cottle will move up to the chief revenue officer position, and Steven Chiang will become president of games.
"These changes come at an important time," Pincus wrote in his blog post. "We are positioning ourselves for long-term growth and I'm confident that we have the breadth and depth of management talent to deliver on our mission of connecting the world through games."
Pincus did acknowledge, however, that "we still have a lot of work to do."
Source: CNN Money | Julianne Pepitone