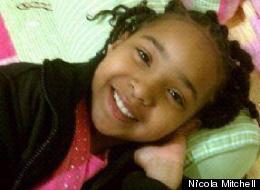 Authorities in Nevada are trying to locate a missing child who was in the care of a woman later arrested for stabbing a co-worker at a Las Vegas casino.
Jade Morris, 10, was last seen Friday by family members, when she got into a red, 2007 four-door Saab with her father's fiancee, 50-year-old Brenda Stokes, also known as Brenda Wilson. Jade's father was out of town at the time.
"Jade went shopping with [Stokes] at about 4:50 p.m., but by 9 p.m. they had not returned," Morris' godmother, Ni'cola Mitchell, told The Huffington Post.
When Stokes failed to return with Jade, the little girl's mother contacted police and reported her missing. The girl's mother then learned Stokes had been arrested at the Bellagio casino, following a violent altercation with another woman.
According to the Las Vegas Police Department, Stokes was arrested at about 10 p.m. Friday, accused of slashing the face of friend and co-worker Joyce Rhone, 44, several times with "an edged blade."
Rhone survived the attack, but was admitted to Sunrise Hospital and Medical Center with deep lacerations to her face, police said.
Stokes told police she would have killed Rhone if casino security had not intervened.
Source: Huffington Post | David Lohr