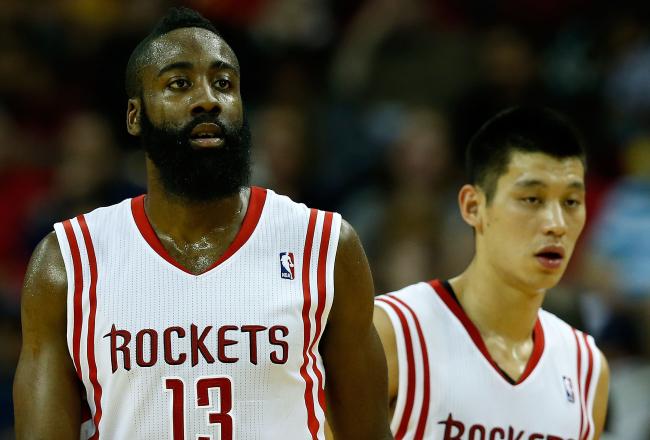 One's an underdog. The other's a scoring machine.
Recipe for a buddy cop movie?
Nope. It's the Houston Rockets backcourt of Jeremy Lin and James Harden.
Underdogs fascinate us. Scoring machines transfix us. The question is, how long will this duo's run be?
In a buddy cop movie, the ultimate pairing are always diametric opposites: If one's, say, a brash naive rookie, the other's a by-the-book, worn-down veteran a week away from retirement.
Likewise in a conventional NBA backcourt. In a perfect world, one guard would have the deadly outside shot, so if the other guard draws coverage attempting to penetrate, he can kick it back out to the first guard for a jumper.
By contrast, Lin's and Harden's games are very similar: they both prefer the ball in their hands for the majority of the possession, and they work best when they first look to attack.
It's an unconventional pairing for sure. More unconventional than, say, teaming up Sandra Bullock and Melissa McCarthy for a buddy-cop flick. (The Heat, from 20th Century Fox, slated for release April 5.)
In addition, Lin's jumper, so deadly for so much of last year, has been spotty. One reason for that could have been Lin working with a shooting coach to learn a new, more consistent stroke. It takes time to learn how to shoot differently. But it looks like the time has finally paid off: Over the last seven games, Lin is 45-of-84, a shooting percentage of .536.
The jumper is still not Lin's preferred shot, but if he can make it when he needs to, it will certainly enhance the duo's success playing together.
But here's the interesting twist: In the last spate of games, the pair seem to have begun to embrace their similarities.
Both are getting chances to control the ball at the start of a possession; over the last five games, Lin's begun almost a quarter of the Rockets' possessions, the most this season.
Both are moving well off the ball. Both are helping create space for the other to attack.
In buddy-cop-ese, it's kind of like pairing up Reggie Hammond, Eddie Murphy's character from 48 Hours, and Martin Riggs, Mel Gibson's character from Lethal Weapon...and then watching them both share loose-cannon punchlines. Weird...but can't you kinda see it working?
Also, both buddy cop movies and great backcourts depend on timing. When the bad guy says to Bruce Willis in The Last Boy Scout, "Just once, I'd like to hear you scream in pain, " Willis waits the exact perfect beat before responding, "Play some rap music."
Likewise, in a great backcourt duo, one guy always knows where the other guy will be. Harden and Lin had very little time--one day--to practice together before the NBA season began. But they've begun to develop that sense of timing.
Source: Bleacher Report | MARSHALL ZWEIG