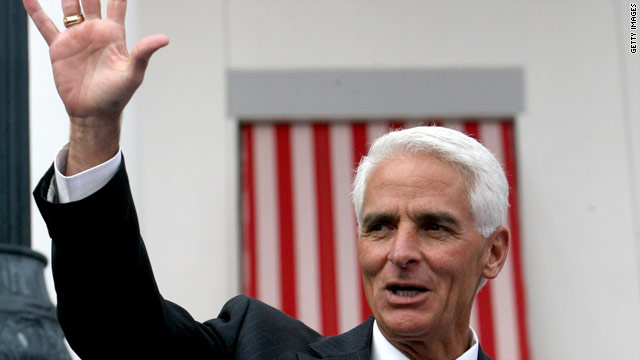 Former Florida Gov. Charlie Crist, who served his state as a Republican, then sought office as an independent, indicated late Friday he had signed papers switching his party affiliation to Democrat.
Crist posted to Twitter a photo of himself holding voter regisration paperwork and the message, "Proud and honored to join the Democratic Party in the home of President @BarackObama!"
The news may come as little surprise to Sunshine State Republicans, who watched him campaign for Obama this cycle and speak at the Democratic National Convention.
Crist told The Tampa Bay Times newspaper, "I've had friends for years tell me, 'You know Charlie, you're a Democrat and you know it.' "
His move could be seen as an early step toward a run for governor. Gov. Rick Scott's first term ends in early 2015.
He won his 2006 bid for governor as a Republican. In 2010, he sought the GOP nomination for a U.S. Senate seat and was up against former state House Speaker Marco Rubio. With tea party support, Rubio took a lead on Crist, who left the party and continued his run as an independent.
His endorsement of Obama referenced the president's health reform law and handling of the economy. It drew criticism from Republicans who branded him "the silly putty of Florida politics."
He also backed Democratic Sen. Bill Nelson's reelection bid this year.
Republicans had noted his literal embrace of Obama at an event in 2009, when he was a Republican and serving as governor.
SOURCE: Gregory Wallace and Kevin Bohn
CNN