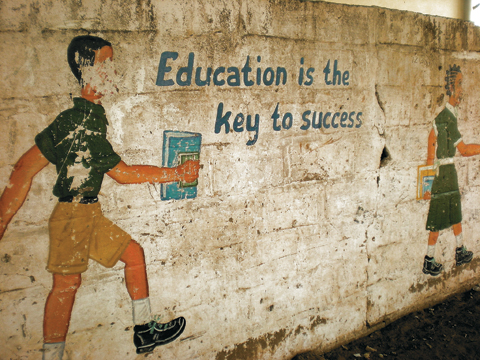 Five years ago, as George W. Bush was pushing No Child Left Behind, his younger, even sleazier sibling Neil was picking the initiative's pockets. Before Dubya left office, his brother's education-software company, Ignite, sold more than $1 million worth of products to schools, encouraging districts to make the purchases with NCLB funding.
The looting has continued under Democrats. The current vice-president's younger brother, Frank Biden, is the chief development officer of Mavericks in Education, a for-profit enterprise that operates charter schools in Florida. Despite the dismal failures of several Mavericks labs -- they don't publish retention stats, but according to state records, one of their high schools had a 15 percent graduation rate in 2010 -- Biden's business has received at least $750,000 in federal grants.
Those are each hideous examples of education profiteering. However, they're just the tip of the Hindenburg, as politically connected forces with armies of lobbyists continue to extract increasing sums from public-education budgets. Until recently, this free-for-all has been met with little resistance. But in the coming year, more states will face similar scenarios to that in Chicago, where Mayor Rahm Emanuel -- acting in tandem with nonprofits that are funded by the likes of Bain Capital, which has a holding that builds charters -- squared off against the city's teachers union. It's a nationwide battle, and the so-called ed reformers -- everyone from corporate test administrators to for-profit-charter-school executives -- have the upper hand. But for the first time, they face a growing legion of formidable opponents.
Few socio-political forces are more popular than the galaxy of alternative pedagogical boosters known as the education-reform movement. According to the Washington, DC-based Center for Education Reform, charter schools, around which much of the movement revolves, "enjoy tri-partisan support"; a poll conducted by the group found that 87 percent of Republicans, 74 percent of Democrats, and 70 percent of independents embrace the charter concept. In 2012, that trend was especially clear in the nearly identical education sections in the major party platforms; the GOP's document pushes for "charter schools, open enrollment requests, college lab schools, virtual schools . . . vouchers, or tax credits," while the Dems call for more "magnet schools, charter schools, teacher-led schools, and career academies."
Source: The Phoenix | CHRIS FARAONE