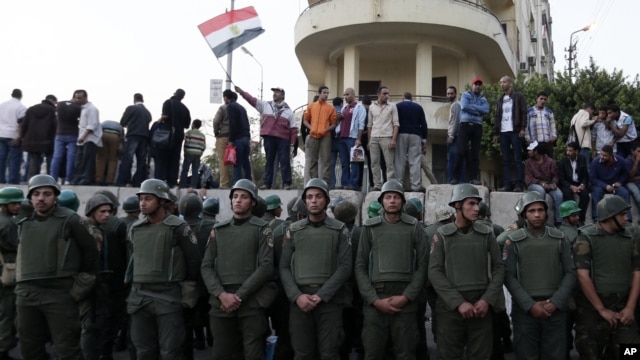 Egypt's opposition National Salvation Front has announced that it will not participate in a December 15 referendum over a disputed draft constitution. Earlier, President Mohamed Morsi revoked part of a controversial decree giving him sweeping powers but insisted the referendum on the new document would go ahead as planned.
Egyptian army soldiers stand guard as protesters stand on top of cement blocks near the presidential palace in Cairo, Egypt, Sunday, December 9, 2012.
The head of Egypt's Journalists Union, Sameh Ashour, told reporters Sunday that National Salvation Front leaders has decided not to participate in the constitutional referendum due to take place next Saturday.
He says the National Salvation Front categorically refuses to take part in the December 15 referendum and will not give its blessing to a vote that will inevitably lead to more divisions and civil strife.
Ashour went on to blast President Morsi and the Islamist Muslim Brotherhood group for their decision to go ahead with the constitutional referendum.
He says that the National Salvation Front insists that what he calls repression, despotism and the hijacking of the state by the president and his (Muslim Brotherhood) group is contributing to the economic woes of all Egyptian families.
Earlier Sunday, Egyptian Air Force jets overflew the center of Cairo at low altitude, as the country's political crisis continued unabated. A few hundred anti-Morsi protesters were clustered in both Tahrir Square and near the presidential palace.
Calls by the opposition for a protest march to the presidential palace did not appear to spur a major outpouring of demonstrators Sunday. However, opposition leaders are calling for a million-man demonstration on Tuesday.
Late Saturday, President Morsi made what opposition leaders called a "cosmetic" concession, agreeing to withdraw part of a controversial decree giving him sweeping powers.
Source: VOA News