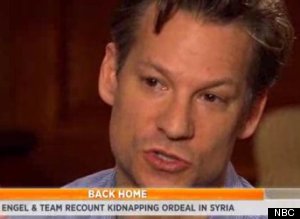 Richard Engel and his team recounted the harrowing details of being captured in Syria for five days.
"Today" co-host Savannah Guthrie interviewed Engel, producer Ghazi Balkiz, photographer John Kooistra and two other members of their team. After being released earlier this week, Engel said he thought an Iranian-trained Shiite group loyal to Syrian President Bashar al-Assad kidnapped the group. According to a statement released by NBC News, they were eventually freed when their captors ran into a checkpoint manned by members of the Syrian rebel group, Ahrar al-Sham brigade.
Engel described the mental torture he and his team ensued while in captivity. "They don't want you to be strong. They want you to be docile. So they would blindfold you, take you outside forcefully ... line you up along a wall. You hear weapons loading and unloading. You hear plastic wrap being set out in front of you, you think, 'This is it.' And then they leave you there for 30 minutes and let the moment play out," Engel said.
At a certain point, the journalists were forced to make a video. "That was actually reassuring," Engel said. "At least they're not going to kill us now ... we're real hostages now."
Source: Huffington Post