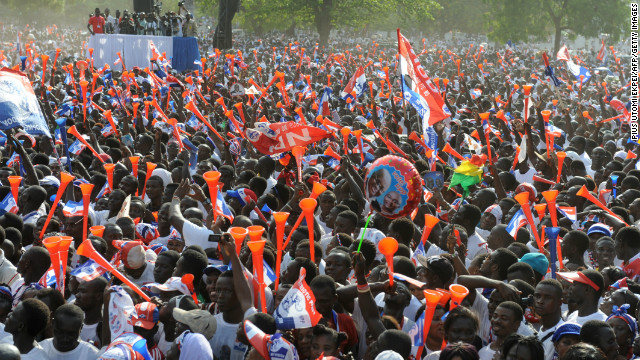 Ghana extended voting into a second day Saturday in areas where election materials arrived late or glitches with a new biometric identification system caused delays.
Pictured: Thousands converged on Ghana's capital as the country's two main political parties held final rallies ahead of Friday's election.
There were reported cases of biometric machines malfunctioning or failing to recognize voters' fingerprints in the pivotal presidential and parliamentary election, officials said.
In areas where voting was not affected, counting was under way. It was not immediately clear how many of the total 26,000 polling stations experienced glitches.
Citizens of the West African nation started voting Friday in a general election that pits the incumbent against the son of a former president in one of Africa's most stable democracies.
In addition to the presidential election, hundreds of candidates vied for 275 parliamentary seats.
Incumbent leader John Dramani Mahama, a former vice president who took over after his predecessor died this year, is one of eight contenders vying for the top position.
The pool of candidates includes opposition frontrunner Nana Akufo-Addo, the son of a former president.
If no presidential candidate wins a majority in the first round, a runoff will be held later this month.
Election fever was high Friday, with lines snaking around polling stations.
"People started lining up at 5 p.m. and spent the night at the polling stations," said Delalorm Sesi Semabia, 25, an oil company employee who lives in the capital, Accra.
"People are enthusiastic," he said. "This particular election is significant because candidates had debates on air and people heard their thoughts on issues. It made a huge difference, it created more passion."
Semabia said a lot of young voters were born in the post-coup times, and want the democracy trajectory to continue.
"We have a passion for our country because we only have one Ghana," he said. "We don't think of elections as an end-all game. We think of it as an opportunity to progress."
The electoral commission initially said it expected to declare the winner within 72 hours after polls close Friday. It was not clear whether the voting extension would delay that announcement.
Passions are running high, and the president urged candidates to ensure that their supporters avoid incitement.
SOURCE: Faith Karimi, CNN