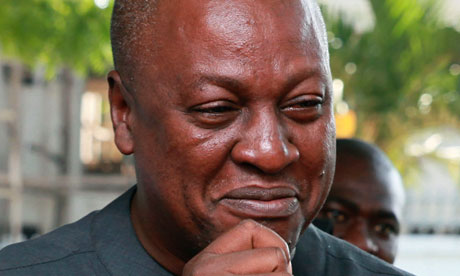 John Dramani Mahama, Ghana's leader, won a closely contested presidential poll with 50.7 per cent of the vote, the country's electoral commission announced on Sunday night.
Mr Mahama, 54, narrowly defeated his main challenger Nana Akufo-Addo, who secured 47.7 per cent of the ballots. Before the results was published, Mr Akufo-Addo's New Patriotic party claimed the vote was marred by fraud.
"I call on all leaders of political parties that participated in this election to respect the voice of the people," Mr Mahama told reporters in the capital Accra late on Sunday. "We must celebrate together as Ghanaians and let's refrain from any act that will disturb the peace and order that this country continues to enjoy."
Mr Mahama was elected vice-president in 2008, when the National Congress party took power, but took over as leader following the death of the then-president John Atta Mills in July. In his manifesto, Mr Mahama said he was targeting economic growth of about 8 per cent for the next four years. The country is on track for that in 2012, thanks to gold, oil and cocoa exports, and a strong service sector.
Mr Akufo-Addo, who lost the 2008 poll by an even smaller margin, had argued that most Ghanaians had seen little benefit from the growing economy. The close election is a reflection of the roughly equal strength of the two main parties, who have now each won two presidential polls over the past 12 years. The peaceful handovers of power in 2000 and 2008 are a source of pride locally, and mark the country as an exception on the continent.
Turnout was high for Friday's poll, with 79.4 per cent of the 14.2m registered voters casting ballots using electronic fingerprint machines. Problems with the hardware meant voting stretched into Saturday. An observer mission from the Economic Community of West African States said in a statement that "the electoral process was peaceful and transparent".
SOURCE: Xan Rice
Financial Times