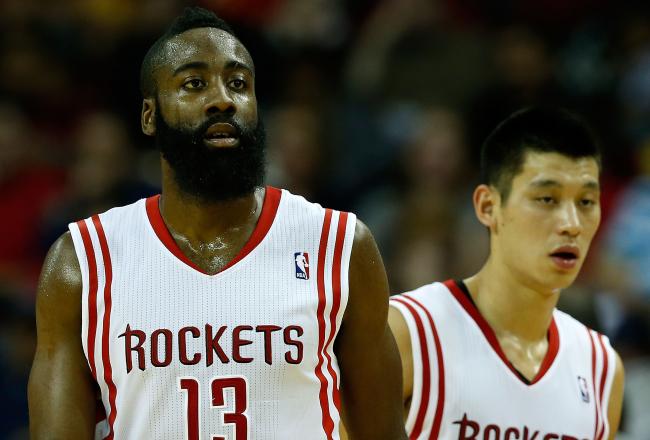 With James Harden attracting more than his share of defensive attention, Houston Rockets guard Jeremy Lin has once again embraced the role of franchise savior.
Flash back to December 10.
The Rockets just missed a chance to shock the NBA world when they failed to secure a win against the perennial powerhouse San Antonio Spurs (who left Houston with a 134-126 overtime win).
The loss gave Houston its third three-game losing streak in its first 20 games of the season. The team looked in disarray and their playoff hopes were meager at best with an unflattering 9-11 record.
NBA analysts trashed what appeared to be an ill-conceived decision to pair two ball-dominant guards together in the same starting backcourt. Comcast Bay Area's Ric Bucher explained that Lin simply wasn't the same player without the ball in his hands.
Lin's numbers did nothing more than fuel the fires for basketball experts. With each passing game, the one-time global phenom looked more like the player waived by the Rockets and Golden State Warriors, and less like Linsanity.
Over that same 20-game stretch, Lin managed just three 15-plus-point efforts. He was held to five or fewer points on five different occasions during that time. His field-goal percentage had plummeted to a paltry 35.9 percent.
But something clicked during the team's 21st game. The Rockets had a home game with the Washington Wizards, the worst team in the league.
Houston didn't wow fans with a 99-93 win, but the game still gave the club its first victory in over a week. Two days later, the Rockets continued their winning ways, this one being an impressive 101-89 triumph over the vaunted Boston Celtics.
Fast forward to today and the Rockets are now entrenched in the Western Conference playoff picture, with a 16-12 mark. Houston has rattled off five consecutive victories, and won seven of their past eight games.
The team has managed this hot stretch despite playing five teams with a winning percentage at or above .500. Perhaps no win was more satisfying for the Harvard grad, though, than his triumphant return to his home in 2011-12--Madison Square Garden.
Source: Bleacher Report | ZACH BUCKLEY