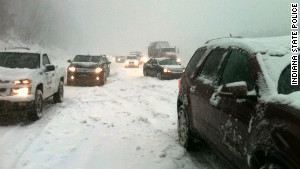 Another wave of winter weather -- this time smaller -- will dump more inches of snow Saturday in the East Coast, forecasters said.
Snow covers most of the lower 48 states after a week of wicked weather, but it is not over yet.
The storm in the South is forecast to move into the Northeast on Saturday.
Two to four inches of snow could fall from southern Illinois to New Jersey.
New York City will see a couple inches of snow Saturday while parts of Connecticut and eastern Massachusetts could see higher snow amounts by Saturday night depending on the storm's track.
Freezing rain threatened parts of Texas, Missouri and Tennessee and a fresh snowstorm was expected to push into the Ohio Valley.
Oklahoma and Arkansas residents should prepare for ice accumulation on top of snow, which will compromise power lines, said CNN meteorologist Bonnie Schneider.
Snow covers 64% of the ground in the lower 48 states, according to the National Oceanic and Atmospheric Association. Last winter's top snow coverage for the lower 48 was nearly 48%.
"That was in February at the peak of winter and we're still in December," Schneider said.
SOURCE: CNN