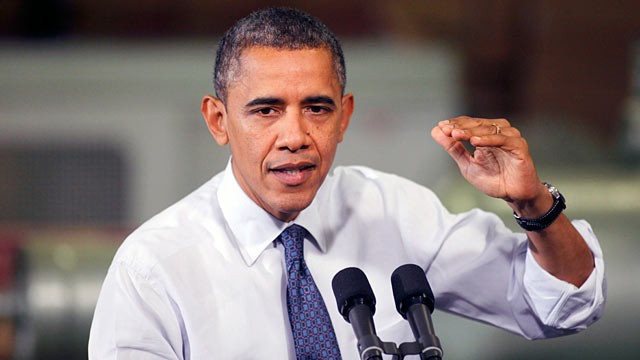 President Obama says he sees "potential" for averting the "fiscal cliff" in 28 days, but that no deal will get done unless Republicans consent to raise income-tax rates on the top 2 percent of U.S. earners.
"We're going to have to see the rates on the top 2 percent go up and we're not going to be able to get a deal without it," Obama told Bloomberg TV in his first televised interview since the Nov. 6 election.
Obama suggested that Republican opposition to any increase in tax rates has stifled progress in negotiations and at least partly explains why he has not met more regularly with House Speaker John Boehner.
"Speaker Boehner and I speak frequently," he said. "I don't think the issue right now has to do with sitting in a room.
"Unfortunately, the speaker's proposal right now is still out of balance," he added, referring to the GOP plan unveiled Monday that would extend all income tax rates at current levels while imposing changes to Medicare and Social Security.
The GOP proposal would achieve $2.2 trillion in deficit reduction in the next decade, including $800 billion in higher taxes through elimination of loopholes and deductions, slower annual cost-of-living increases for Social Security benefits and a higher eligibility age for Medicare.
The plan contrasts sharply with the White House proposal, which calls for $1.6 trillion in new tax revenue -- largely from higher rates on upper-income earners -- modest unspecified savings from Medicare and a new burst of economic stimulus spending.
Both sides have dismissed out of hand the opposing proposal, raising the prospect of continued gridlock as the economy hurdles toward the "cliff."
Income tax rates for the top 2 percent of Americans remain the immediate sticking point. Obama insists that rates must rise at the end of the year as part of any deal; Republicans oppose increasing rates on the wealthy.
Unless Obama and Republicans reach a compromise, a sweeping set of automatic, across-the-board tax hikes and deep spending cuts will take effect, potentially throwing the U.S. economy back into recession.
The "cliff" scenario results from a failure by Congress and the administration at previous intervals to take steps to reduce federal deficits and debt.
SOURCE: DEVIN DWYER (@devindwyer) , MARY BRUCE (@marykbruce) , SUNLEN MILLER (@sunlenmiller) and JOHN PARKINSON (@jparkABC)
ABC News