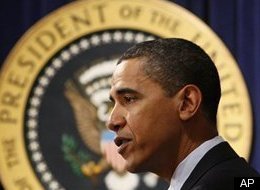 President Obama plans to ask Congress for about $50 billion in emergency spending to help rebuild the states ravaged by Hurricane Sandy, according to administration and Congressional officials briefed on the discussions.
The White House is assembling a spending request to send to Capitol Hill as early as this week, and while the final sum is still in flux, it should fall between $45 billion and $55 billion. That represents an enormous sum at a time when Mr. Obama is locked in a titanic struggle with Republicans over the federal deficit, but is significantly less than the states sought.
Unless an austerity-minded Congress adds to the president's plan, state leaders would have to figure out other ways to finance tens of billions of dollars of storm-related expenses or do without them. New York, New Jersey and Connecticut were seeking a combined $82 billion in federal help both to clean up and restore damage from Hurricane Sandy as well as to upgrade and harden infrastructure to prepare for future storms.
Administration officials would not say which specific spending items were being excluded, but other officials monitoring the issue identified several that the White House seemed cool to. New York, for instance, sought reimbursement for business owners for money lost while they were closed as well as for privately held utilities like Consolidated Edison.
Another proposal that may not make the cut was fully reimbursing homeowners for the costs they incur bringing damaged and destroyed homes to their condition prior to the storm; typically, the federal government covers the cost of bringing homes to a lower "livable" standard after natural disasters like Hurricane Sandy.
The administration request appears likely to come in even below the $60 billion that Senator Harry Reid of Nevada, the Democratic majority leader, said on Tuesday that he expected it to include. Yet even a spending request in the neighborhood of $50 billion would strain the current political system in Washington coming just weeks before a series of deep spending cuts and tax increases are set to take effect automatically, unless the president and Congress agree on a plan to avert them.
Supporters of the disaster-relief request are proposing that the money not have to be offset, or paid for through spending cuts elsewhere. The administration request is unlikely to propose a way to pay for the aid and Mr. Reid said he did not believe it should require savings elsewhere, but House Speaker John A. Boehner of Ohio is reserving judgment. If it is not offset, then it would be financed through additional federal debt.
The White House is trying to frame its storm-spending request so as not to conflict with its showdown with Republicans in Congress over broader budget issues, hoping to present it as a separate issue that has little to do with the long-term health of the treasury. Storm relief, once completed, would not be a recurring expenditure like Medicare or military spending. But officials privately acknowledge the timing is problematic.
Source: The New York Times | PETER BAKER and RAYMOND HERNANDEZ