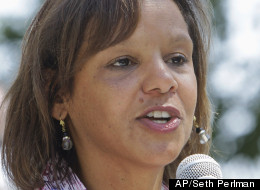 Jesse Jackson Jr. resigned from Congress less than two weeks ago, but since then, a flood of Democratic political hopefuls has already come out of the woodwork.
Former Ill. state Rep.Robin Kelly announced she would seek the seat in the 2nd Congressional District vacated by Jesse Jackson Jr. (AP/Seth Perlman)
From a restaurant in suburban Matteson, former Illinois state Rep. Robin Kelly announced Sunday she is running for Jackson's former seat, according to the Sun-Times.
"I'm running for all the women and men in our communities living paycheck to paycheck," Kelley said during her official announcement, according to NBC Chicago.
The following day, former 5th Ward aldermanic candidate Anne Marie Miles announced via press release she was considering running for Jackson's former seat -- the attorney and community activist did not indicate when her campaign might be made official.
Source: Huffington Post