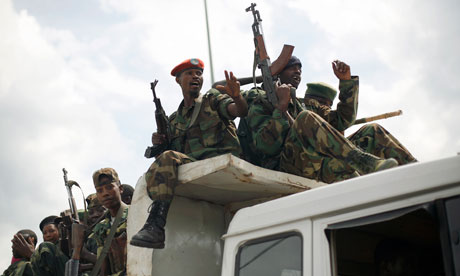 More than 1,000 Rwandan soldiers crossed into the Democratic Republic of the Congo (DRC) offering "direct support" to rebels who captured a major city, according to sources quoted in a UN inquiry.
Pictured: M23 rebels near Goma. Photograph: Jerome Delay/AP
Uganda also helped the M23 militia with "logistics" as it fought a deadly and successful offensive against the Congolese army, the UN Group of Experts said in a letter to the security council.
The allegations deal a fresh blow to Rwanda after months of mounting evidence which, despite Kigali's point-blank denials, prompted Britain to suspend aid worth £21m last week.
The experts said Rwanda Defence Force (RDF) units operated alongside M23 fighters in the rebels' advance on the eastern commercial hub of Goma last month.
When M23 began its offensive on Goma "it benefited from direct RDF support during combat on the frontlines at the village of Kibumba, according to former RDF officers, FARDC [Congolese army] officers and local leaders," the experts stated.
The FARDC killed more than 40 rebels and RDF soldiers "many of whom wore RDF uniforms and carried weapons used by the RDF", they said. "When M23 progressed towards Goma on November 19, 2012, RDF units operated alongside M23 in combat at the airport and close to one of Goma's border posts into Rwanda."
Rwandan forces and rebels "together" took Goma, "marching through downtown dressed in a combination of RDF and new M23 uniforms".
Sources estimated that "well over" 1,000 RDF troops came from Rwanda to assist M23 in these operations, the letter said, and about 500 were inside Goma. On 20 November, the day Goma was captured, "a mixture of M23 and RDF troops clandestinely entered into Goma from the Rwandan town of Gisenyi through small streets situated between the town's two official border crossings".
SOURCE: David Smith
The Guardian