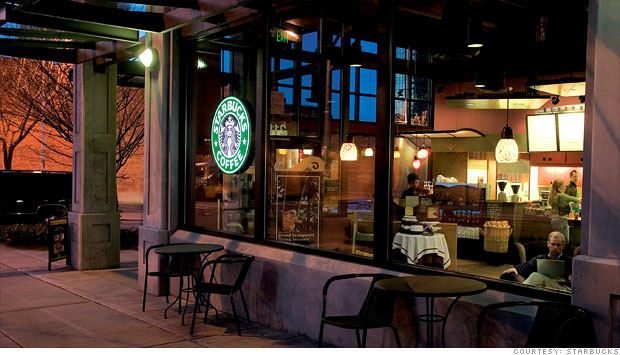 Starbucks is planning to add 3,000 stores over the next five years, with at least half of them in the United States.
The company said Wednesday the new stores will expand its existing global network of 18,000 stores. Starbucks also plans to renovate many of its existing stores.
The additions will lead to a 13% increase in the number of U.S. stores by 2017. Starbucks had 11,100 stores in the United States as of October, according to its annual report.
The coffee chain also has big plans for China, where it plans to more than double the number of stores to 1,500 in 70 cities by 2015. Currently, there are 700 Starbucks stores in China.
The expansion in China will greatly add to Starbucks' presence in the Asia-Pacific region. By the end of 2013, Starbucks hopes to have a total of 4,000 stores there, including 1,000 in Japan, 500 in Korea and its first store in Vietnam.
Starbucks made the announcement at a conference for investors. Shares of Starbucks (SBUX, Fortune 500) were down following the announcement.
Source: CNN Money | Chris Isidore