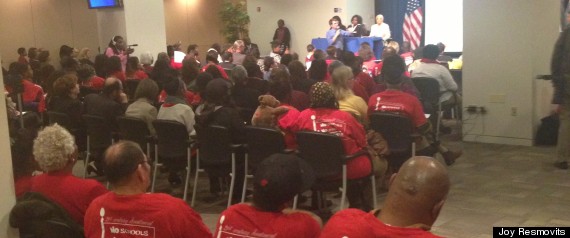 The standards-based education reform movement calls school change "the civil rights issue of our time." But about 220 mostly African American community organizers, parents and students from 21 cities from New York to Oakland, Calif., converged on Washington Tuesday to tell U.S. Secretary of Education Arne Duncan he's getting it backwards on school closures.
Members of the group, a patchwork of community organizations called the Journey for Justice Movement, have filed several Title VI civil rights complaints with the Education Department Office of Civil Rights, claiming that school districts that shut schools are hurting minority students. While most school closures are decided locally, the Education Department's School Improvement Grant gives underperforming school districts money for shakeups or turnarounds, including closures.
The meeting became heated at times. "The voices of the people directly impacted can no longer be ignored," said Jitu Brown, an organizer from the South Side of Chicago. "This type of mediocrity is only accepted because of the race of the students who are being served." He called school closures "a violation of our human rights," since many communities are left without neighborhood schools after districts shut them down.
"We are not Astroturf groups," Brown continued. "We are not people who are paid by private interests to appear."
Helen Moore, an organizer from Detroit, said the current reform movement is tantamount to racism. "We are now reverting back to slavery," she said. "All the things that are happening are by design, by design, by design. They don't want our children to have an education, but we'll fight to the death."
Members of the Obama administration, including Duncan and Obama education advisor Roberto Rodriguez, were in attendance. The Obama administration has been repeatedly admonished for ignoring racial issues. Duncan opened the meeting by saying his job was to listen. "As populations go down, a lot of changes have to be made," Duncan said. He called for a recognition of common goals and intentions. But due to his schedule, he left the meeting after 45 minutes, leading to a quick "Where is Duncan? Where is Duncan?" chant.
Source: Huffington Post | Joy Resmovits