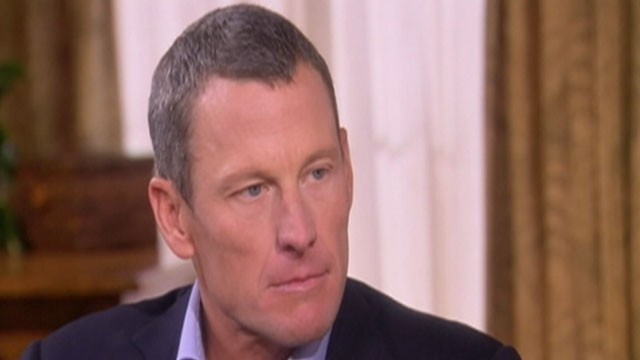 Lance Armstrong may have lied to Oprah Winfrey during his so-called confession Thursday night about his doping during the Tour de France bicycle race, investigators told ABC News today.
Lance Armstrong, formerly cycling's most decorated champion and considered one of America's greatest athletes, confessed to cheating for at least a decade, admitting on Thursday that he owed all seven of his Tour de France titles and the millions of dollars in endorsements that followed to his use of illicit performance-enhancing drugs. (ABC)
Armstrong, 41, admitted for the first time that his decade-long dominance of cycling and seven wins in the Tour de France were owed, in part, to performance-enhancing drugs and oxygen-boosting blood transfusions. He told Winfrey that he was taking the opportunity to confess to everything he had done wrong, including angrily denying reports for years claiming that he had doped.
Investigators familiar with Armstrong's case, however, said today that Armstrong didn't completely come clean. They say he blatantly lied about when he stopped doping, saying the last time he used the drugs and transfusions was the 2005 race.
"That's the only thing in this whole report that upset me," Armstrong said during the interview. "The accusation and alleged proof that they said I doped [in 2009] is not true. The last time I crossed the line, that line was 2005."
"You did not do a blood transfusion in 2009?" Winfrey asked.
"No, 2009 and 2010 absolutely not," Armstrong said.
Investigators familiar with the case disagree. They said today that Armstrong's blood values at the 2009 race showed clear blood manipulation consistent with two transfusions. Armstrong's red blood cell count suddenly went up at these points, even though the number of baby red blood cells did not.
Investigators said this was proof that he received a transfusion of mature red blood cells.
If Armstrong lied about the 2009 race, it could be to protect himself criminally, investigators said.
Federal authorities looking to prosecute criminal cases will look back at the "last overt act" in which the crime was committed, they explained. If Armstrong doped in 2005 but not 2009, the statute of limitations may have expired on potential criminal activity.
The sources noted that there is no evidence right now that a criminal investigation will be reopened. Armstrong is facing at least three civil suits.
The second half of Armstrong's interview is set to air tonight.
Shock and disenchantment were among the reactions from people most familiar with the famed cyclist's history after his on-air confession Thursday night.
"I could not believe that Lance apologized," Betsy Andreu, the wife of Armstrong's former teammate and close friend Frankie Andreu, said today on ABC's "Good Morning America".
"Lance doesn't say, 'I'm sorry.' Lance isn't used to telling the truth and so I think in the days to come, in the months to come, I'm hoping that we'll see the contrition. Actions speak louder than words so if the words aren't empty ...," Andreu said.
Source: ABC News | NEAL KARLINSKY (@NealKarlinsky) and ANTHONY CASTELLANO