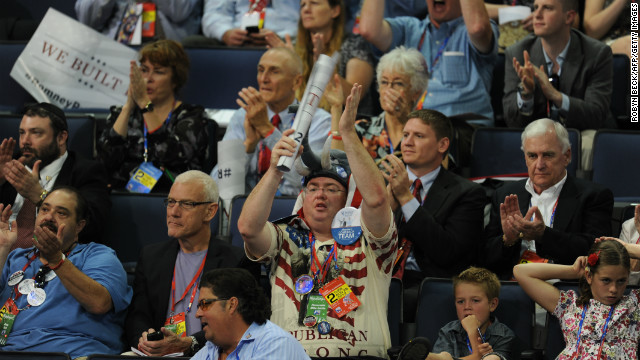 For more than a year I've tried to get Republican National Committee Chairman Reince Priebus to make an appearance on my Sunday morning news show on TV One, the nation's second-largest black cable network.
Roland Martin says one reason the GOP draws mainly white voters is its leaders' reluctance to reach out and listen to minorities.
He has also been invited to appear on my daily segment on "The Tom Joyner Morning Show," with 8 million listeners.
Although Priebus did tell me "yes" a year ago, on the day of the GOP primary debate in South Carolina, he has yet to show up and talk GOP politics to either of these audiences.
This is no shock to me, because most white Republicans I've invited appear to be deathly afraid to accept invites to appear on both shows. In fact, it has been tough even getting a callback or an e-mail from GOP staffers.
Since the debut of my show, "Washington Watch," in September 2009, we have had an open invitation for any member of the GOP House or Senate Conference to appear on the show. In four years, only four -- Reps. Tom Price (twice), Allen West, Steve King, and Pete Olson -- have appeared on the show.
None was verbally attacked. None was called a bigot or a racist. None was prevented from talking. We had polite, but firm, discourse on multiple issues. Any of them would tell you I was more than fair, providing them with a forum to discuss their policy differences with President Barack Obama and Democrats.
Think about that: Even GOP backbenchers who rarely get called to appear on a national TV or radio show seem afraid to show up.
You would think they'd welcome a chance to share their policies with a constituency that routinely doesn't vote for them. But Republicans routinely pass it up, and then wonder why they don't get the votes of blacks and other minorities.
What I'm describing points up a much larger problem with the GOP and its inability to speak to issues that all voters care about.
That's why I find it interesting that at the GOP retreat this past weekend in Virginia, there was a session entitled, "Coalitions-Discussion on Successful Comms w/ Minorities & Women."
Comms stands for "communications."
If Republicans want to understand how to successfully communicate with minorities and women, it sure would help to actually go to the forums where minorities and women read, listen and watch.
Source: CNN | Roland Martin
Roland Martin is a syndicated columnist and author of "The First: President Barack Obama's Road to the White House." He is a commentator for the TV One cable network and host/managing editor of its Sunday morning news show, "Washington Watch with Roland Martin."