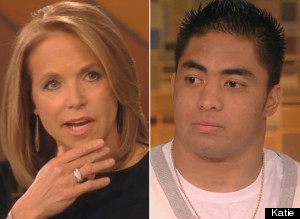 Katie Couric's interview with Manti Te'o gave her young talk show some of its best ratings ever.
| | |
| --- | --- |
| Do You Like this Article? Then Like Us on Facebook. | |
Couric's tough questioning of the football star drew praise -- and viewers.
The Hollywood Reporter wrote Friday that the sitdown drew a 2.6 household rating -- a 30 percent jump from the norm.
Couric said that, after talking to Te'o, she believed that he had not been involved in creating his fake girlfriend -- but that he had been very foolish.
Source: Huffington Post