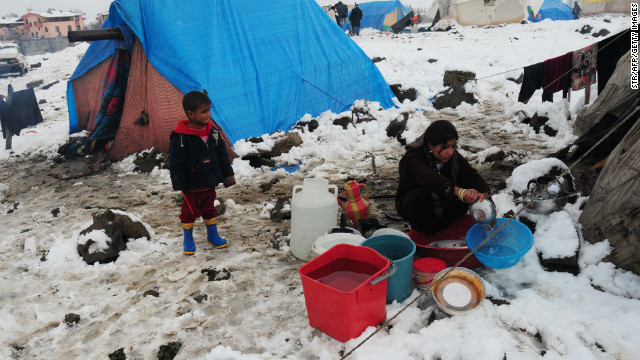 Brutal winter weather is making dire conditions even more so in parts of the Middle East, especially for thousands of Syrian refugees enduring frigid temperatures in tents.
Pictured: Syrian refugees live in cold, wind, rain
The coldest air of the season was moving in behind a heavy snowstorm that blanketed refugee camps in Turkey and Lebanon.
Syria
In Syria, residents in cities pummeled by warfare were taking drastic measures to stay alive.
A video posted online shows three men and two children burning pages of schoolbooks to stay warm in the besieged city of Rastan.
"We can't use the heaters inside our residences," one of the men says. "No fuel, no wood, no electricity."
Rastan, near the dissident bastion of Homs, has been choked off from basic supplies such as electricity, bread and water.
In the Syrian city of Busra, a video shows a man gathering snow in a bucket to save as drinking water.
"We don't have water, we don't have heat," the man says. "We will try to make the snow into water because they cut off the water long ago."
CNN cannot independently confirm the authenticity of the videos. But they're the latest reports of how winter storms are pummeling residents across the region.
Snow and heavy rains had fallen over most Syrian cities in the past day, the state-run SANA news agency reported Wednesday.
Snow was forecast for Thursday in eastern Syria and over the mountains.
Temperatures were running 5 to 10 degrees Celsius (9 to 18 degrees Fahrenheit) below average for this time of year across Syria, Lebanon, Jordan and Israel, CNN forecaster Brandon Miller said.
So far this winter, the region had seen above-average temperatures, he said.
Winds have been strong, in some cases blowing more than 70 kph (43 mph), which makes the wind chill much colder than the air temperature.
But in one ray of hope for those shivering in tents, Wednesday and Thursday are expected to be the coldest days before the weather clears up and temperatures rebound by the end of the week.
SOURCE: Saad Abedine, Holly Yan and Laura Smith-Spark
CNN