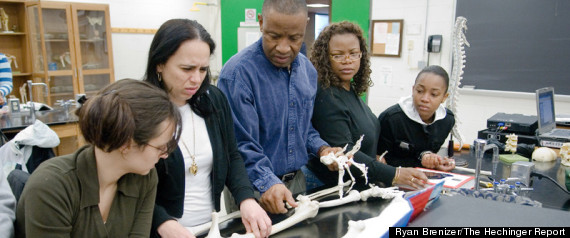 Joyce English was about to start studying toward an associate degree she hoped would lead to a job as a consultant to healthcare companies around Tacoma, Wash., where she lives.
Students at Bronx Community College examine a human skeleton. (Photo by Ryan Brenizer)
Then she discovered a database created by the state's workforce training agency estimating what she'd earn with that degree versus how much she could make in other jobs with other majors and degrees from colleges and universities across the state.
They paid more, she found.
"You obviously want something out of your education," says English, who changed her mind and is now majoring in what she learned is the more lucrative field of business management at Pierce College. "You don't want to go into something that's going to pay you less than it cost to go to college."
Efforts to disclose the earnings potential of degrees in specific majors from particular colleges and universities are picking up steam, promising to bring competitive pressure to bear on institutions by steering students away from programs with lower market value and colleges whose graduates fare poorly--and holding higher education directly accountable for the return on investments made by families and taxpayers.
"We're on the cusp here of something really big," says Grover "Russ" Whitehurst, a senior fellow at the Brookings Institution who was an assistant secretary in the U.S. Department of Education during the George W. Bush administration.
Wage information--by major, degree and institution--was made available for the first time this fall in Arkansas, Tennessee and Virginia, which joined Florida and Washington. Colorado, Nevada and Texas are in the process of producing it, and a bill in Congress would require every college in the country to disclose the average annual earnings of its graduates.
The data already released reveal not only which majors pay more than others, but which universities' graduates earn more and which earn less.
Source: The Hechinger Report | Jon Marcus