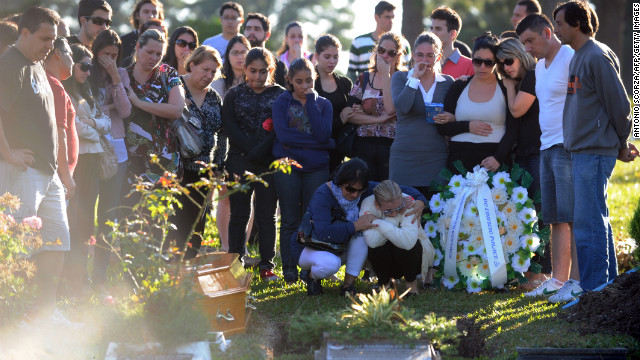 Workers combing through the charred wreckage of Kiss nightclub in southern Brazil on Sunday encountered the eerie sound of ringing cell phones.
Relatives and friends of one of the victims of the Kiss nightclub fire gather during the funeral at Santa Rita Cemetery in Santa Maria, Brazil, on Monday, January 28. More than 230 people died and more than 120 were injured early Sunday when a fire tore through the nightclub packed with university students in southern Brazil, police said.
Glauber Fernandes, a reporter from CNN affiliate Band News, explains.
"It was a really complicated scene. A lot of smoke, a lot of shoes that was left, cell phones, because everybody tried to get out of there running," he said.
"While we were there, we saw the cell phones were ringing. It was parents, friends, trying to know about what was happening and nobody was answering."
A fire swept through the packed, popular nightclub in Santa Maria early Sunday, killing at least 233 people -- enough to fill a large plane -- Brazilian Health Minister Alexandro Padilha told reporters. Of those, 185 have been identified so far.
Many apparently died from smoke inhalation. Others were trampled in the rush for the exits, one security guard told Band News.
More than 90 people were hospitalized, Padilha said, including 14 patients with severe burns.
About 2,000 people were inside the club when the fire broke out -- double the maximum capacity of 1,000, said Guido de Melo, a state fire official.
Investigators have received preliminary information that security guards stopped people from exiting the club, he told Globo TV.
"People who were inside the facility informed us ... that security guards blocked the exit to prevent people there from leaving, and that's when the crowd starting panicking, and the tragedy grew worse," he said.
The fire started "from out of nowhere" on a stage at the club and quickly spread to the ceiling, witness Jairo Vieira told Band News.
"People started running," survivor Luana Santos Silva told Globo TV. "I fell on the floor."
There was a pyrotechnics show going on inside the club when the fire started. Authorities stopped short of blaming it for the blaze, saying the cause was still under investigation.
Source: CNN | Shasta Darlington, Marilia Brocchetto and Dana Ford