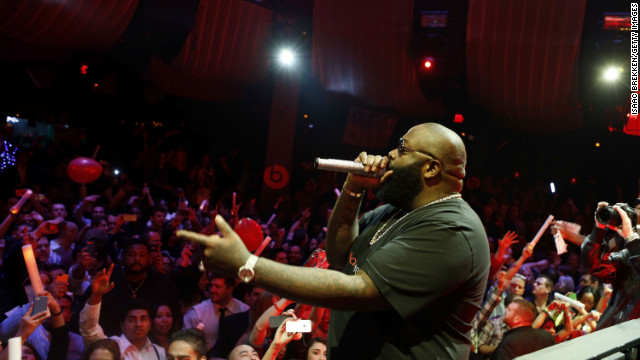 "Teflon Don" rapper Rick Ross crashed his silver Rolls Royce into an apartment building after he heard gunfire along a Fort Lauderdale, Florida, street Monday morning, police said.
Rapper Rick Ross performs at the Beats by Dr. Dre CES after-party in Las Vegas on January 10.
"The driver of the Rolls Royce attempted to drive away from the direction of the shots being fired and lost control of the vehicle, striking a nearby apartment building," Fort Lauderdale Police Detective DeAnna Garcia said.
Ross and a female passenger were not hurt by the wreck or the gunshots, Garcia said.
"The suspects fled from the area prior to police arrival," she said.
The incident, however, called attention to threats against the artist's life made in a street gang's videos and posted online in recent months.
"We're pulling up on you," a man who identified himself as a member of the Gangster Disciples warned in one of the videos. "Whatever city, whatever state, the pressure on."
Several videos purporting to be from Gangster Disciple members in several states -- including Georgia, North Carolina and Florida -- appeared on YouTube late last year demanding that Ross pay a fee to them for his use of the Star of David, which they claim as a gang symbol, and a reference to one of their founders in his music and marketing.
"You got to cut the check," one video said. "Tell your boss man he got to get that check, or all you in trouble."
"We need that cash right now," another said.
Ross, 37, whose albums include "Teflon Don" in 2010 and "Deeper Than Rap" a year earlier, told south Florida radio station 99 Jamz last month that he was not intimidated by the threats.
"Ain't never no checks getting cut," he said. "I don't play those games. I consider that extortion."
Source: CNN | Alan Duke