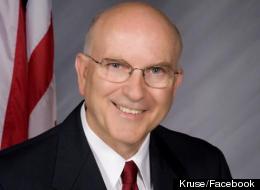 A Republican state senator wants Indiana's public school students to begin each day by reciting the Lord's Prayer.
Indiana state Sen. Dennis Kruse proposed legislation that would require public school students to recite the Lord's Prayer. (Image via Facebook)
Dennis Kruse, chair of the state Senate's education committee, has introduced Senate Bill 23, which would allow Indiana's school districts to require recitation of the prayer, "In order that each student recognize the importance of spiritual development in establishing character and becoming a good citizen."
The proposal does offer exemptions, including a provision allowing students and parents to opt out of a school's mandatory prayer. Still, experts and the Indiana Senate legal committee believe the bill to be unconstitutional, the Indianapolis Star reports.
A similar law exists in Florida, but no schools there adopted the measure for fear of hefty legal fees associated with likely litigation, Andrew Seidel, a staff attorney for the Freedom From Religion Foundation, told the Star. A lawsuit against a prayer banner in a Rhode Island school last year, for example, cost the school more than $173,000 in attorney's fees.
Source: Huffington Post