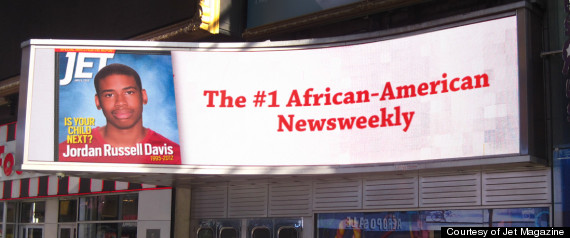 Ron Davis still isn't sure how he made the 30-minute drive to the hospital. He was crying. He was praying he wouldn't crash into anyone. He was pleading with God to just let his son Jordan Davis, 17, be alive.
A billboard featuring Jordan Davis in New York City's Times Square January 2013
It was the day after Thanksgiving at around 7:30 p.m. All Ron Davis knew was what the mother of his son's best friend had called to tell him: Someone had shot at the boys in a Jacksonville, Fla., convenience store parking lot. The shooter apparently thought the music blaring out of the teenagers' red SUV was too loud, she told Davis. Once Davis finally made it to the hospital, privacy rules prevented him from walking into the trauma bay where doctors were working on an unidentified boy. But after an hour of frantic pacing, Davis convinced a nurse to look at a picture stored on Davis' cellphone of him and his son. Did the smiling boy in this picture have a face like the boy on the table? The nurse took the phone and went in. A doctor, two police officers and a hospital chaplain came out.
"I just heard a few words," said Davis, 59. "I heard him say 'I could not get a pulse.' He could not revive my son. I don't know what else was said. I just saw lips moving."
As the nation reels from a spate of gun deaths in 2012 -- some of them singular tragedies like Jordan Davis, others coming in a bloody deluge like the massacre at Sandy Hook Elementary, the movie theater in Aurora, Colo., or in a deadly weekend on the streets of Chicago -- Davis and a small but dedicated band of parents have been transformed. They've become activists.
What that means for them, and what tactics they will employ to try to prevent more parents from losing their children to gun violence aren't settled matters. Their views on gun ownership and gun control are far from uniform. But, as the country begins the contentious process of examining state and federal gun and ammunition laws, parents-turned-activists like Davis intend to have their say.
"It's a pretty powerful role," said Josh Horwitz, a lawyer and executive director of the Washington, D.C.-based Coalition to Stop Gun Violence, a group of 48 national religious and social justice organizations, child welfare advocates and public health professionals. "They are able to speak about this issue with an eloquence no person in their right mind would envy. But I think one of the things that makes this time different than in the past is that survivors aren't just getting organized. They are so much better organized, equipped and capable of connecting."
The first few hours, maybe even the first few days after Jordan died, Ron Davis said he was stuck in a dream-like state that was occasionally punctured with the realization that his son was really dead. Usually, it happened when Davis delivered the news to others. When he went home and told his wife, Jordan's stepmother, what happened, she let out a scream that neighbors four houses away told him later they heard. When Davis called his ex-wife, Jordan's mother, the wails and the tears started over again.
Source: Black Voices | Janell Ross