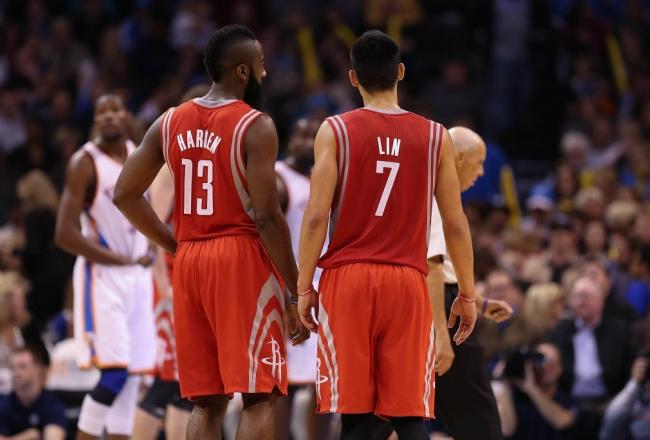 It's a perfect day to revisit the NBA careers of Jeremy Lin and James Harden.
After all, today the NBA revealed its plans to use Houston's Johnson Space Center to launch the NBA Hall of Fame into space, as part of this year's induction ceremonies.
Both men are on this year's ballot. Both are former Houston Rockets. Both shone brightly in their NBA tenures.
But only one will go into orbit.
Which one?
Let's start the analysis by going back to a time before robots babysat our kids, before airports were replaced by teleports and cars were replaced by hovercrafts. Way, way back to 2012-2013, both players' first years with the Rockets.
Harden, drafted third overall by the former Oklahoma City Thunder (now known as the Singapore Storm), was the NBA's reigning Sixth Man Of The Year when he was dealt to Houston in a blockbuster season-opening 2012 trade.
Lin went undrafted and bounced from team to team, until emerging spectacularly for the New York Knicks in February 2012 with a statistically remarkable phenomenon called Linsanity, which had a half-life of about a month, but which inspired millions around the globe. In the offseason, Lin was acquired by the Rockets.
In that first Houston season, Harden emerged as one of the NBA's top scorers, averaging over 26 points a game. In addition, Harden quickly became one of the NBA's best one-on-one players.
Lin, still learning the point-guard game and adjusting his skill set to fit Harden's, reduced his turnovers and improved his defense, but struggled with consistency offensively.
It was clear that Harden was the focal point of the offense, and the team's star on-court. Among NBA audiences worldwide, Lin was still the bigger star.
Harden was selected by coaches as an NBA All-Star; Lin just missed being voted in by fans.
After an extended January 2013 losing streak, Harden and Lin helped the Rockets return to their strengths--transition basketball, attacking the rim, and involving their bigs in the scoring--starting with a three-game winning streak at the end of January against the New Orleans Hornets (now the Johannesburg Killer Bees), the Utah Jazz (now the Ibiza Technos), and the Brooklyn Nets (now the Brooklyn Russian Spies And Rappers).
Source: Bleacher Report | MARSHALL ZWEIG