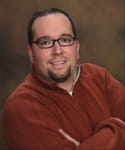 Everyone wants to be better. Self-improvement gurus call it, well, self-improvement. Wise people and many in the church call it growth. The Bible calls this process sanctification. And for the Christian, sanctification is not merely the process by which you become a nice, better person. Pretty much all religions and even quasi-non religions do that. Even Richard Dawkins, I'm thinking, is okay with growth.
Sanctification is something deeper, better, richer. The Bible asserts a bold idea that Christians--those who believe, know and follow Jesus Christ--have something deeper going onside them. They have God in them through the presence of the Holy Spirit. Christianity, at it's truest form, is not really about getting better by self-improvement, but about dying to your old self and seeing the life of Christ form in you. It's a spiritual thing. It's a supernatural thing. But how does God accomplish this? Or, perhaps a better question, what tools does God use?
Well, we know first of all that the agent of change is the Holy Spirit. And we know that He uses the Word of God to penetrate our hearts, cut us deep, and bring about change. The Word delivered, both in private reading and corporate preaching, brings about renewed thinking and renewed thinking brings about new behaviors, new loves, new affections.
But there is another tool that we often overlook, a powerful factor in sanctification. We change through God-ordained, dynamic relationships. In fact, I might argue that relationships, outside of the Word itself, are the primary instrument by which God changes us. This is why the New Testament is pretty clear that faith in Christ is best lived out in community.
Let me explain this. When I was a single guy, I thought I was a pretty spiritual guy. I did my devotions every day. I was faithful attending church. I read widely. But then I got married. This new relationship, a daily, 24 hour/7 days a week committment to another person, revealed areas of sin and selfishness I didn't know I had. And my committment to my marriage forced me to change. In other words, God used my wife, who is very different than me, to change me. As a husband, I'm forced to adapt to Angela. I have to die to some of my needs and desires. I have to repent, daily, of sins against her and have to forgive, daily her sins against me. I grow. I change. And ten years later, though far, far from perfect, I'm an altogether different man.
This process only ramped up when I had children. Four of them. They test my patience, my leadership, reveal further selfishness and sins in me. And so the process of sanctification grows. And in much smaller ways, God has used coworkers, staffers, colleagues, family members, even those who've hurt me. They are not here by accidents, but are instruments of sanctification for my good.
Source: Crosswalk.com
Daniel Darling is the Senior Pastor of Gages Lake Bible Church in the northwest suburbs of Chicago and is the author of several books, including his latest, iFaith. His work has been featured in evangelical publications such as Relevant Magazine, Focus on the Family, Marriage Partnership, Pray!, Relevant, In Touch with Dr. Charles Stanley. He has guest-posted on leading blogs such as Michael Hyatt, The Gospel Coalition, OnFaith (Washington Post), and others. He has been profiled by The Chicago Tribune. Daniel is a contributing writer to Zondervan's Couples Devotional Bible. Publisher's Weekly called his writing style "substantive and punchy." Dan is a contributing writer to Christian Today's online magazine, Kyria as well as Lifeway's men's devotional, Stand Firm. He also maintains a blog at patheos.com, entitled, The Friday Five, where he interviews leading evangelicals. Dan's columns appear weekly at Crosswalk.com and monthly for the local Lake County Journals. Dan has been interviewed on TV and radio outlets across the country, including Moody Broadcasting Network, Harvest Television, The Sandy Rios Show, American Family Radio, the Salem Radio Network, and a host of drive time radio stations across the country. Daniel has a bachelor's degree in pastoral ministry from Dayspring Bible College. He traveled extensively to India and the Middle East. He and his wife, Angela, have three daughters and a son and reside in the northwest suburbs of Chicago.