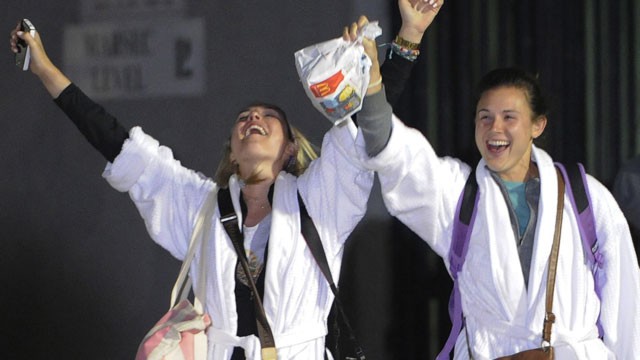 After five days without power in the Gulf of Mexico, the more than 4,200 people aboard the Carnival Triumph returned home to the U.S., with many of them telling their horror stories for the first time.
Pictured: Kendall Jenkins, left, of Houston, celebrates with Brittany Ferguson, of Houston, after getting off the Carnival Triump in Mobile, Ala., Thursday, Feb. 14, 2013. (AP Photo/John David Mercer)
Passengers began to disembark the damaged ship around 10:15 p.m. CT Thursday in Mobile, Ala. The last passenger disembarked the ship at 1 a.m. local time, according to Carnival's Twitter handle.
Passenger Brandi Dorsett was thankful to be home, especially for her mother, who was with her on the ship. Dorsett said she wasn't pleased with the doctor on staff.
"My mother is a diabetic, and they would not even come to the room because she cannot walk the stairs to help her with insulin. She hasn't had insulin in three days," Dorsett said.
The Carnival Triumph departed Galveston, Texas, last Thursday and lost power Sunday after a fire in the engine room disabled the vessel's propulsion system and knocked out most of its power.
After power went out, passengers texted ABC News that sewage was seeping down the walls from burst plumbing pipes, carpets were wet with urine, and food was in short supply. Reports surfaced of elderly passengers running out of critical heart medicine and others on board squabbling over scarce food.
"It's degrading. Demoralizing, and then they want to insult us by giving us $500," Veronica Arriaga said after disembarking the ship.
Passengers were already being given a full refund for the cruise, transportation expenses and vouchers for another cruise. Carnival Cruise Lines is now boosting that offer to include another $500 per person.
As the ship docked, passengers lined the decks of the Triumph, waving and whistling to those on shore. "Happy V-Day" read a homemade sign made for the Valentine's Day arrival, while another sent a starker message: "The ship's afloat, so is the sewage."
Some still aboard chanted, "Let me off, let me off!" and "Sweet Home Alabama."
Kendall Jenkins was one of many passengers who were photographed kissing the ground when they exited the ship. Jenkins, like many passengers, created makeshift beds out of lounge chairs on the ship's deck after the raw sewage smell became too much to contend with.
"We kind of camped out by our lifeboat. We would have nightmares about Titanic basically happening," passenger Kendall Jenkins told ABC News Radio.
"I am just so blessed to be back home," she added.
SOURCE: MATT GUTMAN (@mattgutmanABC) , CHRISTINA NG (@ChristinaNg27) and ANTHONY CASTELLANO
ABC News