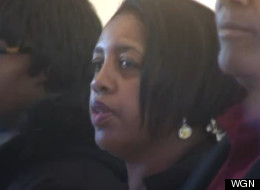 As she prepared to lay to rest her fourth of four children killed by gun violence in Chicago, mother Shirley Chambers was a special guest at a Sunday service at a church on the city's West Side.
Shirley Chambers has last all four of her children to gun violence. She will lay her youngest child, Ronnie, to rest on Monday.
Members of the Galewood Community Church UCC took up a special collection for Chambers on Sunday, according to the Chicago Tribune.
Chambers' fourth and youngest child, 33-year-old Ronnie, was one of seven people fatally shot on Jan. 26 in Chicago. Chambers previously lost all three of her other children in shootings, all of which also took place in Chicago.
"I feel stressed out. I can't eat, I can't sleep, it's killing me," Chambers told WBEZ during an appearance on "Afternoon Shift" last week, noting that no one from the city reached out to her following her family's latest tragedy but that several pastors have offered support.
Chambers' daughter LaToya was fatally shot in July 2000 at the age of 15, three months after her brother, 23-year-old Jerome, was also gunned down. In 1995, Shirley's oldest child, Carlos, was also fatally shot at the age of 18.
At the time of her death, LaToya was the same age as Hadiya Pendleton, the 15-year-old who performed at President Obama's inauguration just a week before she was shot in the back while waiting out a rainstorm in a park near her school.
No suspects have been apprehended in either Ronnie's or Hadiya's deaths, just two of the 40-plus homicides Chicago racked up in January, the bloodiest start to a year the city has seen since 2002. A $40,000 reward is being offered in exchange for information in Pendleton's death.
Source: Black Voices