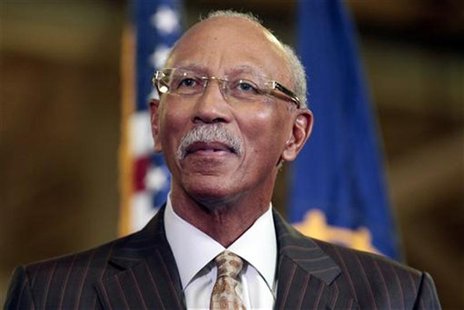 Detroit Mayor Bing said he will remain focused on the city's finances and promoted his plans for demolition of abandoned buildings and crime reduction during his State of the City address Wednesday night.
Detroit Mayor Dave Bing listens during a news conference at the Chrysler Mack I auto plant in Detroit, Michigan November 15, 2012. REUTERS/R
Bing's speech did not answer questions about whether the city will end up with a state appointed financial manager, but he outlined cuts to spending and payroll costs. The mayor announced a new public-private partnership to increase the number of abandoned buildings that will be demolished.
Bing also previewed an initiative to reduce gun related crimes by 25-percent with the help of local, state and federal law enforcement agencies. Details of that plan to curb crime will be announced within a month.
Source: WKZO.com