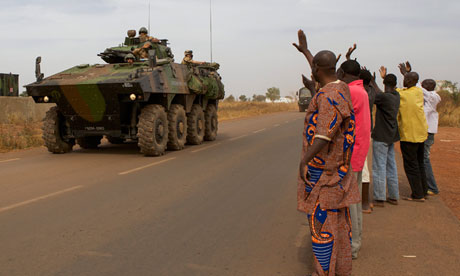 France may begin a gradual withdrawal of its troops from Mali as early as the next few weeks, handing over responsibility for security in the country to a still-developing African force.
Pictured: Malians wave at a convoy of French tanks and heavy armoured vehicles leaving Senou airport in Bamako on Monday. Photograph: George Henton/EPA
The French defence minister, Jean-Yves Le Drian, said a "progressive move from a French military presence to an African military presence" could happen "relatively quickly" and "in a few weeks" France could begin reducing its troop numbers.
Le Drian told Europe 1 radio that the 4,000 French troops in Mali - the same number as France had at the height of its 11-year military presence in Afghanistan - was the "maximum" and would not be increased.
Forces from France and Chad have reportedly secured the key city of Kidal in northern Mali. French aircraft and troops have continued to target suspected hideouts of Islamist fighters in the sparsely populated Saharan desert. There are fears that the extremists who have fled Mali's cities during the three-week French-led operation could try to stage attacks from remote bases.
Le Drian said there had been "clashes" on Tuesday in the area around Gao. "When our forces, backed by Mali forces, began to patrol and conduct missions around the towns we had taken, troops found residual jihadist groups who fought," he said.
He added that since the start of the French intervention on 11 January there had been "significant losses" among Islamist groups and "a real war". Earlier this week Le Drian said "several hundred" Islamists had been killed.
The French foreign minister, Laurent Fabius, told the Metro newspaper: "I think that starting in March, if everything goes as planned, the number of our troops should diminish."
He stressed that terrorist threats remained and that the fight was not yet over, but that ultimately Africans and Malians themselves needed to take responsibility for the region's security.
SOURCE: Angelique Chrisafis
The Guardian