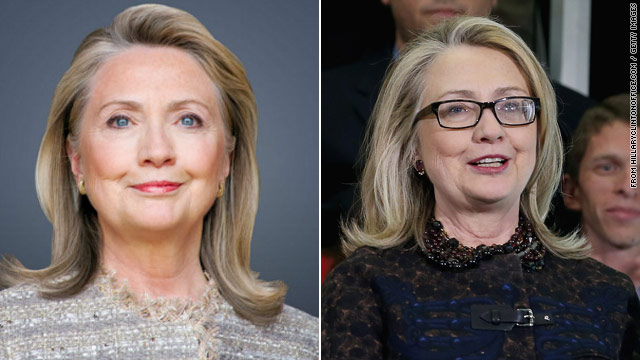 If a picture says a thousand words, some may be reading this one as "Hillary Clinton 2016."
Pictured: Clinton's photo from her website at left and a photo of Clinton on her last day at the state department at right.
An attention-grabbing photo of Clinton - without the glasses she has worn since her recent concussion - boldly sits atop a new website, HillaryClintonOffice.com, which was registered on January 31 as she left her post as secretary of state last week.
Only further stirring the speculation: visitors to her old campaign website, HillaryClinton.com, are offered a link to the new website "to reach the Office of Hillary Clinton."
A source close to Clinton said the site was created to help people contact her with questions and scheduling requests now that she is no longer in her government post.
The new online presence is sparse: besides the attention-grabbing photo, there's a form to contact Clinton and the site's privacy policy. The photo, a separate source said, was not a professional portrait but a picture which Clinton liked.
While the purchasers of domain names are generally available publicly, this site was purchased through a service allowing the purchaser to remain anonymous.
Her original site HillaryClinton.com, which links to the new site, is funded by Friends of Hillary, which is the remaining shell of her 2000 Senate campaign.
SOURCE: Gregory Wallace and Paul Steinhauser
CNN